Looking back on 2008, I came to the depressing revelation that I could only count the great comedies on one hand. It led me to the tragic conclusion that the comedy genre has gone the way of the horror genre, and the really good ones are few and far between. When the future looks bleak, I look back at the past. I decided to devote a new monthly feature on Fandomania to unearthing some truly great comedies which actually put forth the effort in being funny. Sometimes they're all too familiar, sometimes they're totally unknown. Either way, you're in for some priceless fool's gold.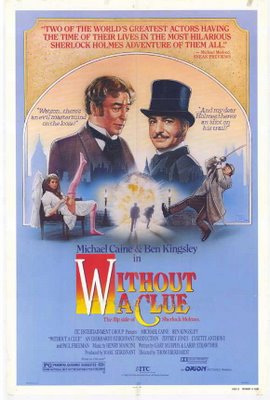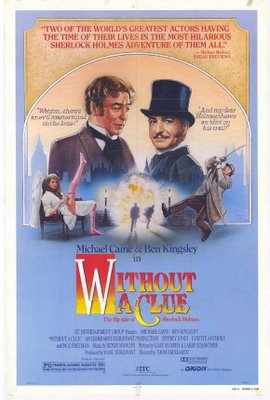 An obscure, British comedy which shows how a "what if" premise can be fully realized to its full comedic potential. Without A Clue is a period comedy that dares to ponder "What if Sherlock Holmes was the imbecile, and Watson was the genius?" In the film Dr. Watson (Ben Kingsley) is a promising medical mind whose hobby of solving impossible cases is frowned upon in his clique. So he decides to put his hobby to use by fabricating a phony detective character named Sherlock Holmes. To make this phony detective real, Watson hires a washed up actor to play the part. What he winds up getting is womanizing, gambling drunkard Reginald Kincaid (Michael Caine). Time goes on, and Holmes becomes a sensation in London. Holmes/Kincaid becomes so popular that Watson becomes frustrated with never getting the credit. The story takes an interesting dramatic turn when Holmes/Kincaid finds himself on his own without Watson to solve the case. The funniest aspects of this film lies heavily in Caine's willingness to play a narcissistic buffoon with exceptional glee, and the scenes where he's butting heads with Ben Kingsley are a sublime display of the sophisticated colliding with the farcical. It's like vaudeville for the Victorian Era, with a Holmesian twist.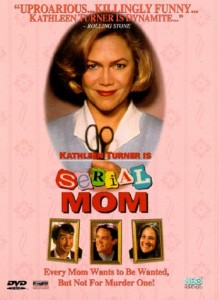 With Natural Born Killers, Oliver Stone satirized the media's tendency to glamorize serial killers. But with Serial Mom, cinema sleaze god John Waters proves that the only way to go is too far. Wayyyy too far. In a similar fashion to Fargo, Serial Mom claims to tell a true story. The story in question revolves around the Sutphins, a happy Baltimore Family who are the Cleavers of the Grunge Age. The kids (Matthew Lillard and Ricki Lake) are healthy, hardworking students. Mr. Sutphin (Sam Waterston) is a successful dentist, and Beverly Sutphin is a loving, prim and proper housewife with personal hobbies. Hobbies which include harassing a neighbor on the phone because said neighbor cut Beverly off in the parking lot, running over her son's math teacher with the family station wagon because he recommends that Beverly's horror movie enthusiast son needs therapy, and skewering a boy with a Franklin Mint fire-poker because he stood up Beverly's daughter. Beverly is a woman who takes perfection to an lethal extreme as she slaughters anyone who tries to spoil it. How does John Waters make something so horrible so freaking funny? He exaggerates the hell out of it, and so do his actors. Particularly Kathleen Turner who plays Beverly Sutphin with the kind of manic glee that would make Dexter douse his drawers. Though the entire cast is razor sharp, it's Turner who has you grinning like a psychopath all the way through. Serial Mom was one of the few films that actually had you rooting for the monster to win. Top that off with Waters' totally uninhibited attack on the media, and you have a bona fide dark comedy classic.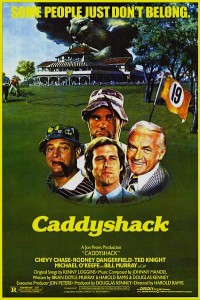 The movie's tagline, "It's the Snobs against the Slobs," is the most substantial summary Caddyshack really needs. Caddyshack is proof positive that sometimes the best comedies don't really need to bury themselves in plot. Granted, there are subplots relating to young malcontent Danny Noonan (Michael O'Keefe) trying to schmooze with the upper class to improve his prospects, and there's the rivalry between stuff shirt Judge Smailes (Ted Knight) and obnoxious party animal Al Czervik (Rodney Dangerfield), but those plot points aren't the only things that make this film funny. What makes this film really work is all the random insanity that happens in Bushwood Country Club. The endless war between a cunning gopher and the mentally unstable greenskeeper Carl Spackler (Bill Murray). The sexual conquests of Lacey Underall (Cindy Morgan) and the dubious wisdom of Ty Webb (Chevy Chase) and the art of Zen golfing. Though many schools of thought believe that excess is the best way to go when it comes to comedy, with Caddyshack, we realize that excess in comedic terms doesn't mean going totally crazy and doing whatever the hell you want. It means finding the heart of the humor in each situation and milking it for all it's worth. When it comes to comedy, excess means going all the way regardless of propriety. In comedy, the only limitation should be context–the context of the scene, and the context of the film as a whole, and Caddyshack understands that.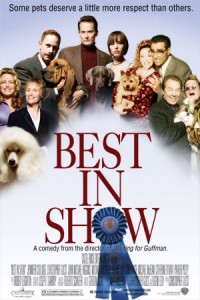 In farce, it is necessary to never hold back the lunacy, but the art of satire displays the lunacy in a more subtle fashion, making the humor more realistic. Best In Show is a prime example of this concept. Christopher Guest and his fantastic entourage of comedy-improv artists star in this riotous mockumentary about the Mayflower Kennel Club Dog Show and some of the owners who compete. The film satirizes the behavior inherent in dog owners who groom their dog for show. There are those who smother their dog with obscene amounts of love. There are some who pratically make their dog a part of their lifestyle. Some stake the stability of their existence on their dog's sanity. Some prefer the companionship of a dog over regular human socializing. Then there are those whose entire careers hinge on winning at dog shows. All of these archetypes are present and accounted for, and all of them are ripe for a comedic assault from the incredibly talented cast of improv artists who pratically make up the script as they go, portraying some of the most hilariously neurotic dog owners you will ever encounter. A particular scene thief in this film, without a doubt, is Fred Willard as the sportscaster with the shortest attention span you'll ever see. He litters the dog show with commentary that borders on crude and even becomes jaw-droppingly gratuitous. So for the dog-lover in all of us here is a comedy that is a guaranteed blue ribbon winner.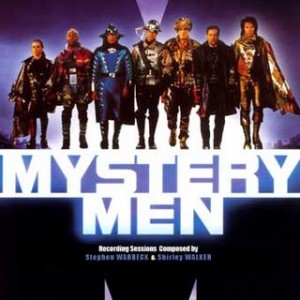 Comic book action takes a passenger seat to dry witted humor in this one of a kind send up of the world of superheroes. Armed with one of the best ensemble casts ever assembled, Mystery Men tells the story of a ragtag cadre of working class superheroes with less than super powers, who find themselves to be the last line of defense when Champion City's greatest superhero Captain Amazing (Greg Kinnear) goes MIA. With only their limited skills to save the day, these wannabes must take on a powerful evil mastermind, Casanova Frankenstien (Geoffrey Rush) and his henchmen The Disco Boys (Eddie Izzard and Pras). The admirable trait of this film is that instead of going the wildly slapstick route, Director Kinka Usher decided to make the humor more natural. It's a comedy style which is more fitting for all the actors in the film. For comedy stars like Ben Stiller and Jeneane Garofalo their talents are more evident when they act more like human beings, as opposed to wacky nutjobs, which seems to be the failing of many so-called comedy actors. There is something more hilarious about the fact that a superhero who can fling forks with deadly accuracy has issues with living with his mother, while The Shoveler has to cope with the lack of support he receives from his wife and some of his kids. Then of course there's the fact that this film heckles some of the sillier traits of the more illustrious superheroes, most notably the silly disguises some of them have when they switch into their secret identities. Then there are those that think that to be a superhero you've got to get a gimmick, or even worse, a theme song. Mystery Men is a rare comedy where the humor works on different levels, balancing light farce with satire, and displays exceptional wit on the visual side and the verbal. In the cinema age where superheroes are the tops, Mystery Men proves that you don't need high tech hardware or epic power to make a great superhero.
NEXT MONTH: We resuscitate Woody Allen's sole foray into the sci-fi genre, we see how far Steve Martin will go to make his masterpiece, and we witness Michael J. Fox climbing the corporate Ladder.