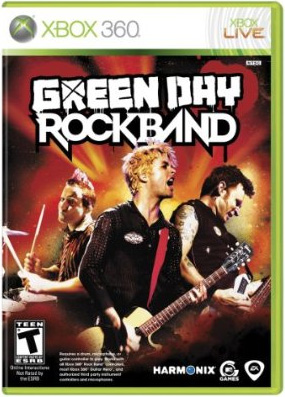 It was just over a month ago that Harmonix, MTV Games, and Reprise/Warner Bros. Records announced their partnership with Grammy Award winning band Green Day for the development of the standalone video game Green Day: Rock Band set for release early this June, but already the full 47-song tracklist for the game has been unveiled — and it's a very impressive list indeed.
The Green Day: Rock Band setlist includes a collection of greatest hits and fan favorites from several of the band's most influential albums, notably Dookie and American Idiot. 21st Century Breakdown can also be played in its entirety when paired with the six tracks from that album that are already available as downloadable content in the Rock Band Music Store. The 47 tracks are featured in the game via three separate venues, each one representing a different period in Green Day's career. For example, a game venue called "The Warehouse" is designed to capture the feel of early Green Day songs and shows and includes the following tracks:
The Warehouse Setlist
Dookie (1994)

"Burnout"
"She"
"Having a Blast"
"Sassafrass Roots"
"Chump"
"When I Come Around"
"Longview"
"Coming Clean"
"Welcome to Paradise"
"Emenius Sleepus"
"Pulling Teeth"
"In the End"
"Basket Case"
"F.O.D."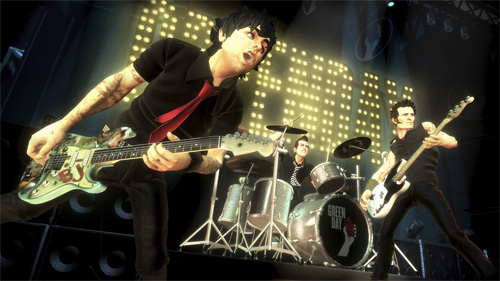 The setlists for the other two venues featured in the game — Milton Keynes, the UK concert made famous by Green Day's 2005 movie for "Bullet in a Bible," and The Fox Theater in Oakland, where the band performed an intimate show for their most recent album — are listed below. Combined with the six Green Day songs already available in the Rock Band Music Store, "21 Guns," "Last of the American Girls," "Know Your Enemy," "¡Viva La Gloria!," "East Jesus Nowhere," and "Christian's Inferno," for Rock Band and Rock Band 2, Green Day: Rock Band players have virtually all of the greatest Green Day tracks from more than five of the band's albums available at their fingertips.
The Milton Keynes Setlist
American Idiot (2004)

"American Idiot"
"She's a Rebel"
"Jesus of Suburbia"
"Extraordinary Girl"
"Holiday"
"Letterbomb"
"Boulevard of Broken Dreams"
"Wake Me Up When September Ends"
"Are We the Waiting?
"Homecoming"
"St. Jimmy"
"Whatsername"
"Give Me Novacaine"

Warning (2000)
Nimrod (1997)

"Hitchin' a Ride"
"Good Riddance (Time of Your Life)"
"Nice Guys Finish Last"

Insomniac (1995)

"Brain Stew" / "Jaded"
"Geek Stink Breath"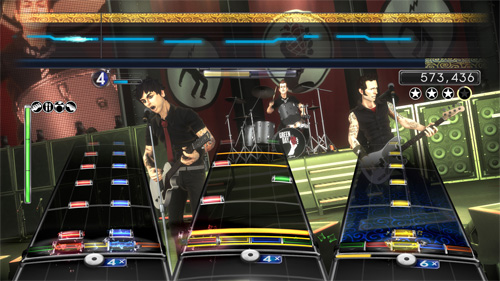 The Fox Theater Setlist
21st Century Breakdown (2009)

"Song of the Century"
"¿Viva La Gloria? (Little Girl)"
"21st Century Breakdown"
"Restless Heart Syndrome"
"Before the Lobotomy"
"Horseshoes and Handgrenades"
"Last Night on Earth"
"The Static Age"
"Peacemaker"
"American Eulogy"
"Murder City"
"See the Light"
Green Day: Rock Band features likenesses of Green Day members Billie Joe Armstrong, Mike Dirnt, and Tré Cool. "Seeing ourselves through the lens of this videogame has been mind blowing," said Green Day's Billie Joe Armstrong. "From the soundtrack setlist and venues to the unlockable video footage and photos, Green Day: Rock Band undeniably manages to capture the best moments and work of our insane careers. We can't wait for our fans to experience it."
Green Day: Rock Band allows players perform vocals, guitar, bass and drums, and also features the type of three-part vocal harmonies that Harmonix first introduced with The Beatles: Rock Band not only with the on-disc tracklist but also when importing Green Day DLC tracks from the Rock Band Music Store. As players progress through the game they gain access to the band's media vault where they can unlock collectible images and rare and unreleased video footage of the band.
Green Day: Rock Band ships worldwide on June 8 and is available for the Xbox 360, PlayStation 3 and Wii. The entire track list will be exportable, giving players the ability to play these Green Day songs in Rock Band and Rock Band 2 on the Xbox 360 and PlayStation 3 systems. The game is compatible with all Rock Band instrument controllers and most Guitar Hero and other third party music video game peripherals and microphones. For more information on Green Day: Rock Band or to gain access to new screenshots, video trailer, pack fronts and other art please visit GreenDayRockBand.com's Press Site.