The newest disc-based release in the ever expanding Rock Band empire hits stores today. This time Green Day is the band getting the full game treatment, and we were able to take an early look at Green Day Rock Band, thanks to the folks at Harmonix.
Green Day might not be the first band you'd think of when you try to guess who's going to be featured in their own video game, but once you look at their stats and history the band selection seems like a no-brainer. Green Day formed in 1987 and, after eight album releases, is going strong in their fourth decade of music making. Having a band stick together and be consistently productive for that long is a rare thing, and it's rarer still from a punk band. The band's evolving image and huge catalog of songs provide plenty of material for this Rock Band installment.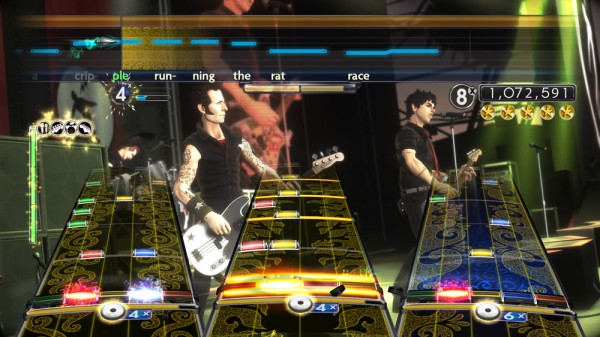 When you have a single-band game, you'd darn well better have the band itself as playable characters, and Green Day Rock Band definitely delivers. The three members are very recognizable and make a great translation into the Rock Band art style. There have been some artist likenesses in previous games (most notably in the Guitar Hero franchise) that straddled the uncanny valley between the real singers and their cartoon counterparts a little too precariously, yielding creepy Hall of Presidents results. Green Day has no such problems here, and it's fun to rock out as Billie Joe and the gang.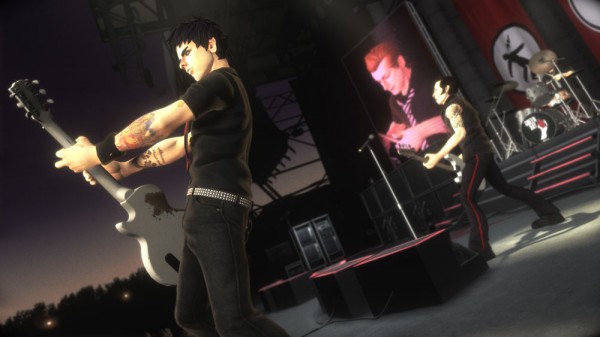 The game features three new venues. The first you encounter in the career mode is a fictional warehouse that's your stage for the early years of Green Day. The warehouse plays host to the Dookie album from 1994, featuring 14 tracks including "Longview," "Welcome to Paradise," and "Basket Case." The second venue is Milton Keynes, inspired by the 2005 concert film Bullet in a Bible. There you'll play through 21 songs with an emphasis on American Idiot (2004) but also spanning Warning (2000), Nimrod (1997), and Insomniac (1995). This venue takes a while to get through, and the career pacing might have benefited from having one additional venue thrown in to break up this extra long one. The final place you'll take the band is Oakland's Fox Theater, where Green Day played a recent show to promote their newest album, 21st Century Breakdown (2009). That album is the focus and feature of this third venue.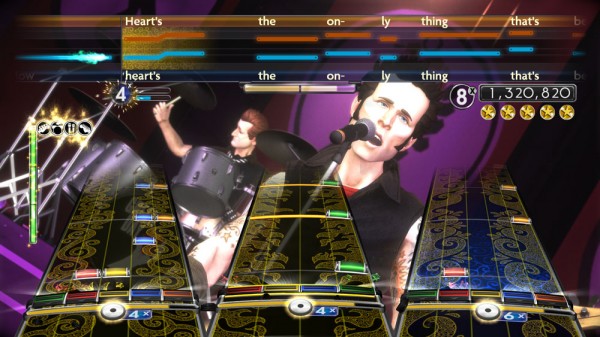 The full song list includes 47 tracks. With individual downloadable songs usually hitting around two bucks, Green Day Rock Band comes out as a great value for fans of the band, even if you view the release solely as a giant track pack. The overall song list is at the bottom of this review, separated out for folks who don't want the whole thing spoiled in advance. And yes, for anyone wondering, you can export all the songs for play in your regular Rock Band and Rock Band 2 games (and the forthcoming Rock Band 3 as well, as promised in Green Day Rock Band). The fee for exporting on the Xbox 360 and Playstation 3 is $9.99, which is pretty historically standard for these things. There is a "Plus" version of the game, however, that comes with a one-use code that will give you the export for free, along with all six of the previously downloadable Green Day songs. Sorry, Wii gamers, no song exporting for you.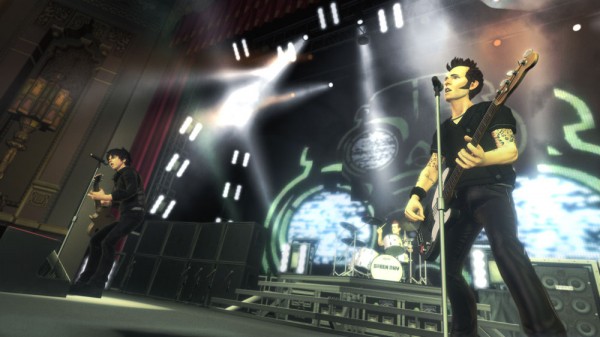 Green Day fans will like some of the collectibles you pick up as you progress through the career mode. You'll be rewarded with "stickers" for getting 3 or 5 stars on songs. The stickers are browsable and turn out to be more than 100 photos of the band and their shows. An even better reward is the more than 40 minutes of video footage you can unlock by playing through and doing well in the game. The videos include everything from a sound check performance to the band's very first MTV interview to outtake footage from a MTV special. There's a lot of content packed in here, and unlocking it all will take quite a while and more than a little practice.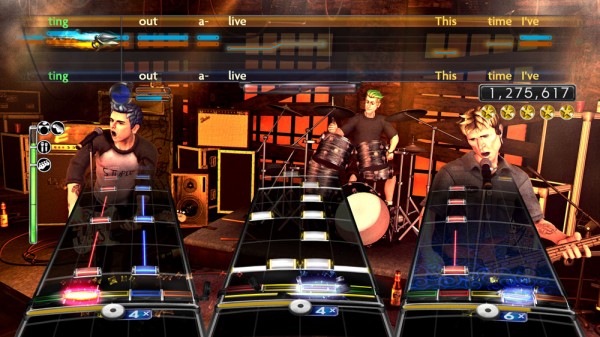 The Green Day Rock Band game demo that dropped onto Xbox Live and the Playstation Network not long ago concludes with a teaser icon that implies that keyboards will be added into the instrument mix for Rock Band 3. There's been no confirmation about that, and I could find no mention of keyboard inclusion in the actual game itself. I'd be surprised if there's not an automatic patch to Green Day Rock Band in the future, though, enabling the keyboard options after the piano or keytar peripheral inevitably releases.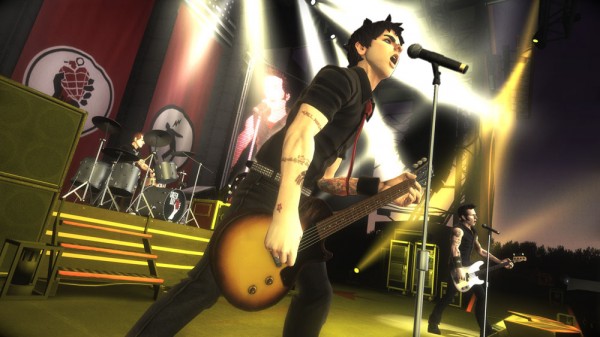 You'll get some good bang for your buck with Green Day Rock Band. As with any single band release, gamers who already are superfans of the featured band will get the most out of the package, and they'll really enjoy some of the deeper album cuts included here. I'm not a superfan but still knew and enjoyed a decent amount of the music included here. All in all, Green Day Rock Band isn't as elaborately developed as The Beatles Rock Band, notably missing the awesome animations between venues (although GDRB does include a great animated sequence at the beginning of the game). For my gaming money, though, it's a better buy than the Beatles game, if only for the exportability of its entire tracklist. The beauty of Rock Band is being able to mix and match your favorite bands and songs to make crazy playlists when your friends come over. The Beatles Rock Band lacked that ability due to licensing issues for the songs, but Green Day really comes through and lets me drop "Boulevard of Broken Dreams" right in between "Margaritaville" and "Don't Stop Believin'."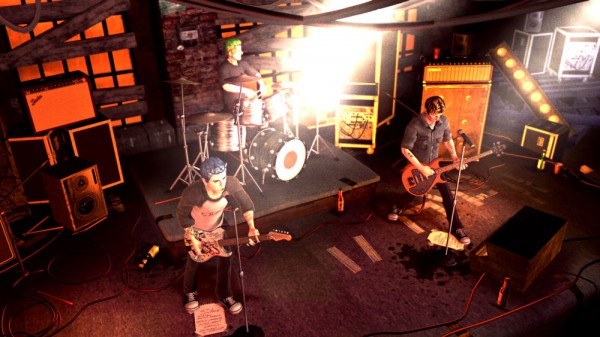 If you're a Green Day fan, this game is a must buy. But even if you're not hugely into Green Day, you should take a look at this release as a chance to quickly grow your Rock Band repertoire by 47 great songs.
Rating: 4 / 5 Stars