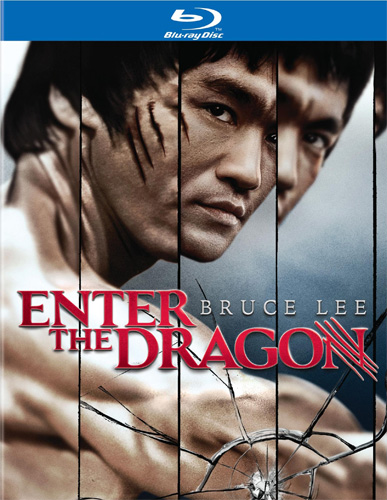 Enter the Dragon is one of those movies that I've always known I should see but never got around to watching until a review copy landed in front of me. I never have avoided watching it, but I just never found myself in a situation to watch it until now. This sort of thing happens disconcertingly often, and it usually makes me feel like I'm grossly slacking in my movie fan responsibilities. The last time was when the Blade Runner anniversary Blu-ray collection released, and this time it's with Enter the Dragon's 40th Anniversary Collector's Edition.
When I watched Blade Runner for the first time last year, I saw it not through the eyes of someone experiencing a groundbreaking science fiction spectacle for the first time but through the filter of having already seen, read, and played countless movies, TV shows, books, and games that took inspiration or stole wholesale from the source. Similarly, I'd never watched Enter the Dragon, but I am familiar with Bruce Lee and his legacy, and I've seen countless martial arts movies and played just as many video games that owe their existence and success to Lee and his movie. Watching Enter the Dragon for the first time after already having experienced all of its later descendants feels a little like doing genealogy. I'm familiar with traits in the current generation of the family but now see exactly where they originated in the family tree, and following the trail back to the source provides for a fascinating look at the beginning of a lineage.
All the ruminations about what it means to see Enter the Dragon later than I should have aside, this is one amazing kung fu movie, even forty years after its debut. In fact, I'd argue that it's even more impressive in 2013 than it was in 1973. We're used to seeing today's actors performing their stunts and fight scenes aided by CG and wirework, with very little real life veracity making it onto the screen. The principal actors are taken care of, and danger is something reserved for stunt people who go largely nameless and faceless. It wasn't that way back in the '70s, when Bruce Lee brought his own, true fighting intensity to his roles. He wowed audiences back then, but his hits and kicks impact even harder today when we're used to such sanitized and factory tweaked martial arts in movies.
The movie's plot is a simple and straightforward one. Bruce Lee plays Lee, a Hong Kong Shaolin martial artist. A mysterious fight organizer named Han invites him to a fighting competition on his remote island, thereby establishing the plot for pretty much every future fighting video game. It turns out that Han is a shady character, and the authorities have been trying to nail him but lack jurisdiction. An agency recruits Lee to infiltrate Han's operation undercover when he goes to the fighting tournament, and he agrees to investigate. The investigation soon takes a personal turn for Lee, cementing his resolve to bring down Han's illegal operations. After he arrives on the island, Lee launches into his clandestine snooping while proceeding with the competition. The tournament fights, combined with Lee's extracurricular activities, present a story lacking in complexity but overflowing with outstanding reasons for Bruce Lee to unleash his lightning fast skills.
Warner Bros' new edition of the movie features brand new remastered video that looks fantastic. Enter the Dragon does look like a movie made in 1973 because of its shooting and lighting styles, but the video itself is crisp and likely better than it's ever looked before. The Blu-ray comes in a plastic case that fits inside a cardboard slipcase housing some bonus goodies for this special anniversary edition. Among the physical pack-ins, they have included an embroidered Enter the Dragon patch, promotional postcards, a motion lenticular card, and a preview art book that showcases some of the work from the upcoming Enter the Dragon: A Photographer's Journey book. There's even more to find in the digital bonuses, with more than three hours' worth of content divided between old and new featurettes and extra material. Here's the full rundown of what's included:
Audio commentary by producer Paul Heller
No Way As Way – Featurette about Bruce Lee, Enter the Dragon, and the influences both inspired
The Return to Han's Island – Location feature that details the areas where the movie was made
Wing Chun: The Art that Introduced Kung Fu to Bruce Lee – Martial arts featurette examining Bruce Lee's fighting styles and the arts that brought him into fighting
Interview Gallery
Vintage features: Backyard Workout with Bruce Lee, Curse of the Dragon, Location: Hong Kong with Enter the Dragon, Blood and Steel: The Making of Enter the Dragon, Personal Profile – Bruce Lee: In His Own Words
Movie Trailers and TV Spots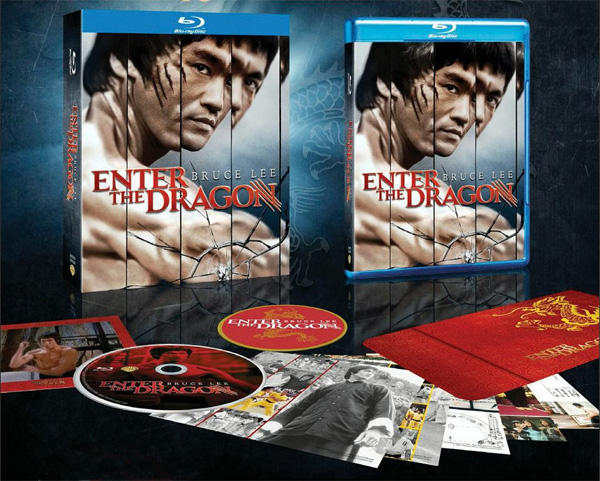 If you already are a fan of Bruce Lee's work, this ultimate edition of Enter the Dragon will be a fine addition to your Blu-ray collection, and you'll even get some new physical goodies and brand new featurettes to go along with it. If you've never seen Enter the Dragon, you can make your initial approach to the film the same way I did, through this outstanding remastered release. Either way, Enter the Dragon is deserving of its place in the annals of film history. The Enter the Dragon 40th Anniversary Ultimate Collector's Edition released on June 11, 2013, and is in stores now.