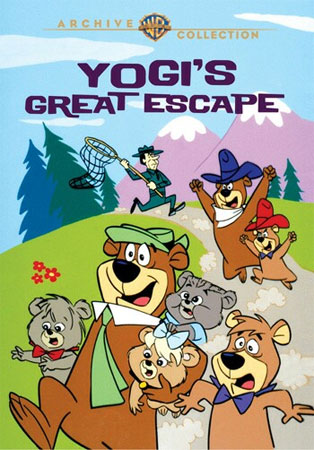 DVD: Yogi's Great Escape
Release Date: December 7, 2010
The Warner Archive Collection brings a classic animated movie to DVD, just in time for the new Yogi Bear theatrical movie. Here's a look at Yogi's Great Escape, the newest addition to the growing line of WBShop exclusive titles.
Yogi Bear and his pal Boo Boo wake from their hibernation in Jellystone National Park to a few unwelcome surprises. The first three come in the form of orphaned bear cubs they find near their cave, and the fourth is the news that Jellystone is shutting down due to budget cuts. Apparently Reaganomics didn't work out too well for park dwelling ursines. With their home being closed, Yogi and Boo Boo are destined to be shipped off to the zoo, an unacceptable fate for our bear friends. Before Ranger Smith can round them up, Yogi constructs a car (a Supercar, even) out of random junk and throws the bear cubs in a picnic basket rumble seat, and it's off to the races.
Yogi and Boo Boo embark on a cross country chase with the ranger, accompanied by a hired trapper and his dog, hot on their trail. The adventure takes them through a western ghost town, into the bayou, and even to Mount Rushmore and the Empire State Building. Along the way they encounter a cadre of other Hanna-Barbera characters such as Quick Draw McGraw, Wally Gator, and Snagglepuss.
Yogi's Great Escape debuted on TV in 1987 as the first installment of the Hanna-Barbera Superstars 10 show, a series of movie length cartoons featuring the full stable of Hanna-Barbera characters, from the Flintstones and the Jetsons to Scooby-Doo and Huckleberry Hound. With a 93-minute runtime, Yogi's Great Escape originally aired with commercial breaks, but the whole movie is presented uninterrupted for this new DVD release. That's a double-edged sword, as the nonstop hijinks probably could use some stop and go points. The movie does drag at times but always jumps back into the action after the lulls.
There are no extras on the DVD, as is customary for the Warner Archive series, but the video does look touched up and is of the good quality we've come to expect from Warner's exclusive classic DVDs. The movie probably won't win any new fans among adults, but young kids should enjoy it if they can stick around through the long runtime. There's also some good nostalgia to be had for anyone who filled a childhood with watching the original Hanna-Barbera shows.