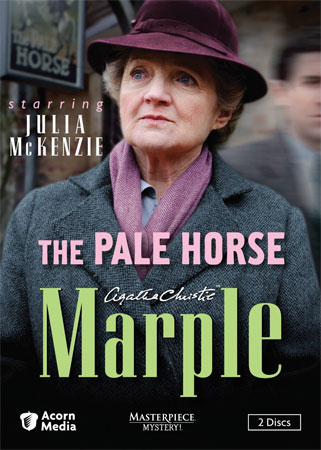 A common conversation starter among fans of Doctor Who is "Who is your Doctor?" They aren't asking for a physician referral, but rather they're inquiring about which of the eleven actors who has played the time traveling Doctor is your favorite. While I have been asked who my Doctor is (Ten, if we can forget the horrible TV specials that concluded David Tennant's run), no one ever has asked me who my Miss Marple is. As a kid who grew up on a steady diet of mystery novels and adaptations, I would have had an answer ready, and it would be Joan Hickson. I first developed a fondness for the canny lady from St. Mary's Mead when I read my first Christie novel, At Bertram's Hotel, but seeing the books adapted and broadcast on PBS Mystery! is what cemented my fandom. I still occasionally catch myself humming the theme to Agatha Christie's Miss Marple, the definitive and widely beloved Joan Hickson Marple series.
After the Joan Hickson adaptations ended, I lost touch with the Agatha Christie adaptations, but Acorn Media's recent release of The Pale Horse on DVD has introduced me to the current era of Miss Marple productions. Julia McKenzie took on the role of Jane Marple in 2004 with the newest incarnation, featured in the TV series Agatha Christie's Marple. The fifth series of Marple released on DVD in August of 2010, but it was incomplete. The Pale Horse aired during the original series broadcast, but it did not air in the U.S. until July 10, 2011. Due to licensing requirements, a DVD can not release until an episode is broadcast, so this final installment from series 5 is only just now making its way to home video.
The Pale Horse is an intriguing story to be featured in a Miss Marple TV show, as the original novel upon which it is based is not a Miss Marple mystery. As a lifelong Christie devotee, I worried about the quality of the adaptation when I saw that such liberties were being taken, but a viewing would set my concerns to rest. Writer Russell Lewis substitutes Miss Marple for Ariadne Oliver, another Christie recurring character who was featured in the original novel, and the result is a very enjoyable and otherwise mostly faithful reimagining of the 1961 mystery story.
This is the only Miss Marple production I've seen featuring Julia McKenzie, and she plays a likable and sympathetic version of the character that I can see really growing on me as I check out the rest of the Marple series. Joan Hickson always will be my number one Marple, but McKenzie easily could slide into the second place position for me. The Pale Horse begins with a priest and friend of Miss Marple being murdered after hearing a dying woman's confession. It's not long before Marple is on the case, and her queries brings her to a hotel called The Pale Horse, owned by three modern day witches. The plot thickens with an additional murder at the inn, and the usual suspects line up for the investigation.
As a bonus feature, a second adaptation of The Pale Horse is included in Acorn's new DVD release. This earlier production is from 1997 and does not include Miss Marple. The cast features notable talents like Colin Buchanan, Jean Marsh, and Andy Serkis, but the newer Julia McKenzie version definitely is the superior one. Still, having the second adaptation included in the bundle is a neat addition. The 1997 version is a full-screen presentation, while the Marple one includes both widescreen and full-screen.
Fans of Agatha Christie should check out this slightly different take on the classic novel, and longtime Miss Marple fans will find a lot to enjoy in Julia McKenzie's portrayal of the beloved sleuth.