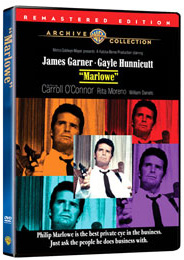 DVD: Marlowe
Release Date: April 26, 2011
In 1969 MGM decided to bring back the classic character of Philip Marlowe, the cynical private eye famously played on screen by Humphrey Bogart. Marlowe is one of the iconic hardboiled detectives, a man who could be, at turns, heroic and detached. He was the embodiment of the strong and silent type of the post-war generation. But this was 1969, a new generation of free love, and the studio tried to update Marlowe into a joking action hero in the James Bond mold. The result can be seen for the first time on DVD in the new release of Marlowe through Warner Archive.
Based on the Raymond Chandler novel The Little Sister, the film features the titular detective walking through the underbelly of Hollywood in a case that involves a missing man, an actress being blackmailed, and a series of stabbings. Marlowe is played by James Garner, an actor who would find success in another detective role, Jim Rockford on The Rockford Files. He's great on that show but here he is aimless as Marlowe. It isn't Garner's fault. The script doesn't give him much to work with. When the mystery is finally answered it is a strain to remember what the question was. It doesn't help that this Marlowe is a passive observer who doesn't do much to move the plot other than hand out business cards and make jokes. Maybe the biggest problem is that the world that Chandler created is simply incongruous with the swinging '60s where the film is set. This was the era of free love, yet the plot hinges on the idea that someone would be willing to kill in order to keep the public from pictures of an actress frolicking in a pool.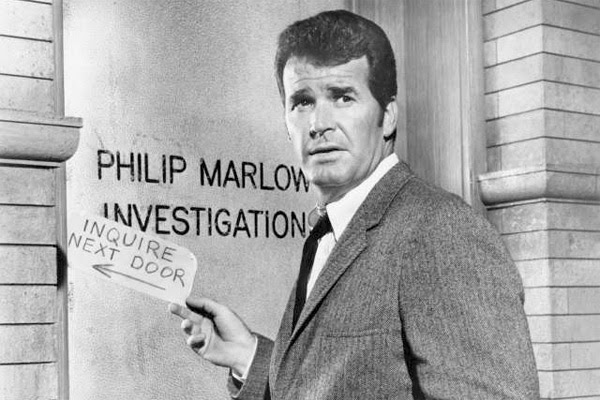 No, this isn't a movie for those looking for a great mystery or a realistic interpretation of the Marlowe character. From a pure camp standpoint, however, the film has everything you could want: people being drugged with marijuana cigarettes, Bruce Lee randomly destroying office furniture with his fists of fury, and a stripper who looks like she's dressed in a Lady Gaga outfit. Yes, Lee does appear all too briefly in the film as a heavy sent after Marlowe. It's one of his first American films and it is as random as it sounds. The stripper is also a wonder of weirdness, especially since she's played by EGOTer Rita Moreno (EGOT being the abbreviation for the select group that has won Emmy, Grammy, Oscar, and Tony awards). If you've ever wanted to see an Oscar-winning actress get down to just her tassels and g-string then this is the movie for you! It's a great cast who would all go on to bigger and better things. Here, however, they are stuck in a story that never quite works. The real mystery is how so many talented people ended up making something so forgettable.