DVD: Wolverine and the X-Men Vol. 4: Fate of the Future
Release Date: February 2, 2010
I'm a Marvel fan practically since birth, so any adaptation of the Avengers, the X-Men, or any of their friends and foes will meet close scrutiny from me. I've seen very good (the Iron Man movie) and very bad (the, sigh, Elektra movie) results, so I wasn't quite sure what to expect when I first heard there was a new X-Men ongoing cartoon on the way. The advance buzz and trailer left me tentatively excited, because it looked like the show would be delving into the larger Marvel universe and bringing in characters that, while associated with the X-Men in comic book canon, haven't been shown alongside them in any of the previous cartoon or movie adaptations. Then Wolverine and the X-Men premiered in 2008, and my fears were squashed. This show is the real deal, folks, and last week we were sent the fourth volume of episodes, the newest of the series's DVD releases.
One of my favorite things about Wolverine and the X-Men is that it's a smart animated series that actually incorporates a larger story arc into its overall run. Ongoing, serialized stories are nothing new in anime, but they're fairly uncommon in western cartoons. This sense of continuity that makes every episode feel like it's a part of something bigger and more rewarding is a fantastic aspect of the series. At the same time, it should be easy to pick up and watch nearly any random episode of the show and know what's going on, provided you have a general understanding of the X-Men characters and setting.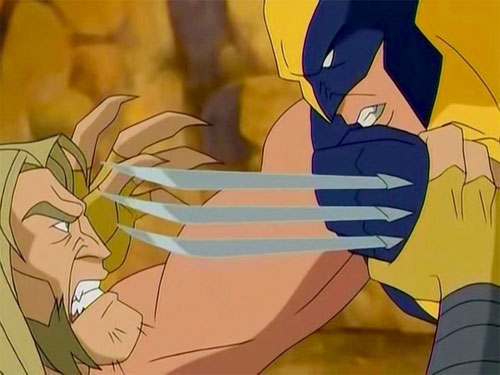 The ongoing arc in this series is a general adaptation of Days of Future Past, a classic storyline written by X-Men luminary Chris Claremont in 1981. It's somewhat surprising that the original Days of Future Past spanned only two comic issues (X-Men #141 and Uncanny X-Men #142), given the amount of ensuing comics, movies, TV shows, and video games it's influenced directly and indirectly. Even Heroes has given a few half-hearted attempts at pulling off a Future Past story, but there's truly no substitute for the original starring the X-Men.
The animated series version of the story changes a few details by beginning with some sort of catastrophic event causing Professor Xavier and Jean Grey to vanish. Twenty years in the future, the professor awakens from a coma to find the mutants of the world hunted and subjugated by robotic Sentinels in a reality very reminiscent of Claremont's story. Xavier uses his telepathic abilities to warn the past X-Men of the impending future, in the hope that they can avert the Sentinel domination. This fourth volume of Wolverine and the X-Men episodes released on DVD has the X-Men tackling the Sentinel threat head-on as their adventures leap through time to face demons from their own pasts while they try to save the future.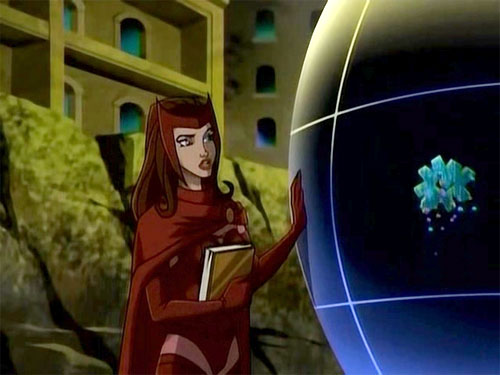 The five episodes included on this newest DVD are episodes 14 through 18, including "Stolen Lives," "Hunting Grounds," "Badlands," "Code of Conduct," and "Backlash." I'm not crazy about DVD releases that split TV seasons into multiple, separately sold volumes, but packaging five episodes on one volume at least is better than the previous three releases, each of which included only three or four episodes. The episodes that are included here are part of a great story, though, and are worthy of a place in any Marvel fan's collection. I'm holding out hope for a full season release on Blu-ray or DVD, but in the meantime these piecemeal releases will do.
In addition to the five episodes, you'll also get some trailers for other kids' series. The real bonus on the DVD, however, is that all five episodes include commentary audio tracks featuring Craig Kyle (supervising producer), Greg Johnson (series writer), and Chris Yost (series writer). The commentary is a feature that's been included on the previous volumes as well, and it's a very cool addition that has become standard for these releases. The packaging is impressive as well, sporting a lenticular slip cover that transforms Wolverine from his current yellow and blue costumed incarnation into his wired and tubed Weapon X-era self.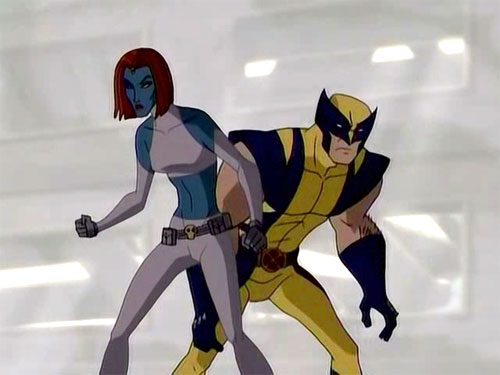 Wolverine and the X-Men is the best animated adaptation of the X-Men that you'll find, and it's possibly the best overall adaptation. If you're a comics fan and haven't seen any of the series, you owe it to yourself to check it out from the beginning. My only gripe is with the piecemeal way the first season is being parceled out in multiple DVD volumes, but that's nothing new for this sort of series. Further, it's worth picking up all the volumes to get the entirety of this great series on DVD.