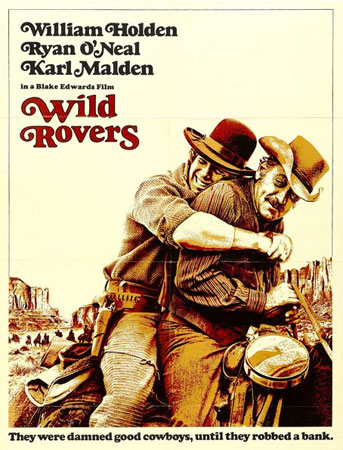 Blake Edwards is best known for creating movies like The Pink Panther and Victor Victoria, but in 1971 he dipped his toe into the dustbowl of western filmmaking for the first and last time. The result is Wild Rovers, recently released on DVD through the Warner Archive collection.
Wild Rovers stars William Holden and Ryan O'Neal as a pair of cowhands in the employ of one Walter Buckman (Karl Malden). Ross Bodine (Holden) is turning 50 and lamenting his long life as a ranch man while Frank Post (O'Neal) is his young counterpart, eager to break out of being a cowpoke and make something of himself. Unworldly and unwise, the duo decide that the solution to both of their problems is robbing the local town bank. They pull off the caper without much trouble and make off successfully with $36,000. It soon becomes clear that they haven't thought through the rest of their plan just yet, so they go with the default option of saddling up and heading south for Mexico.
Their former boss is none too pleased with having his workers stick up the local bank, and his sons John (Tom Skerritt) and Paul (Joe Don Baker) head out on the trail in pursuit of the erstwhile cowhands. The chase leads the groups through a veritable catalogue of Old West tropes as Bodine and Post lead their pursuers across some gorgeous terrain and through a string of sedately paced encounters. The ultimate confrontation comes in a requisite showdown, concluding a fine western film.
Blake Edwards' experience in making Wild Rovers is probably better known than the movie itself, as some of his conflicts with the studio helped inspire his later satirical film S.O.B. The original release of Wild Rovers was a different cut than Edwards intended, even altering the ending to something the studio felt the audience would enjoy more. Edwards disassociated himself from the movie and only found vindication more than a decade later when a restored edit of the movie was presented for home video release. This longer, more complete version of the movie is the one Warner Archive has released as part of their DVD collection, and it clocks in at a hefty 137 minutes in length.
Fans of Blake Edwards will be interested in checking out this solitary western outing for the legendary writer and director. Wild Rovers released exclusively through WBShop.com on February 22, 2011, as a "made on order" DVD for $19.95.