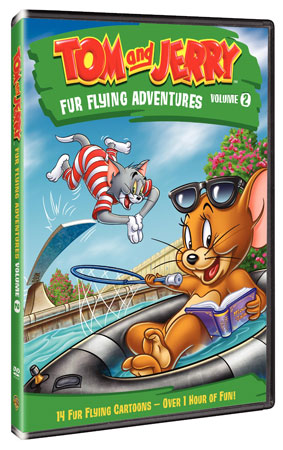 Back in February, Warner Bros released their first collection of Tom and Jerry Fur Flying Adventures on DVD, presenting 14 classic cartoons recollected for a new audience. Now they've followed up with a second set of animated shorts with Tom and Jerry Fur Flying Adventures Volume 2, releasing this month on DVD.
I can remember thinking Tom and Jerry were awesome and current when I was little, and I had no clue the cartoons I was watching were from the 1950s and before. It's rare to find that kind of timelessness in modern kids' shows, and I love that even the children of today are able to enjoy the crazy adventures of one cantankerous cat and his lovable frenemy mouse. This second volume assembles 14 more adventures, including:
Tops With Pops
Monster Con
Tom and Jerry in the Hollywood Bowl
Of Feline Bondage
Saturday Evening Puss
The A-Tom-Inable Snowman
Surf-bored Cat
Snowbody Loves Me
Duel Personality
Is There a Doctor in the Mouse?
Haunted Mouse
The Declaration of Independence
Kitty Hawked
Which Witch!
The lineup is something of a mixed bag, offering up some bona fide classics alongside some passable animated shorts. The ones that are good are great, though, and they are cartoons worthy of a place on longtime fans' DVD shelves or in front of the eyes of young viewers for the very first time. "Tops With Pops" in particular is a classic favorite, featuring Tom and Jerry's occasional canine companions Spike and Tyke. Others have Tom and Jerry visiting the beach, the twosome encountering a vampire hunter, and even a trip to the Alps.
All the old cartoons look great on this disc. I've heard some complaints from video buffs about the non-anamorphic presentation of some of the shorts. While it's true that all the clips that could have been widescreen should have been widescreen, the fun and nostalgia of the adventures do not suffer at all. If you're looking to revisit the fun of Tom and Jerry from your own childhood or to share the duo with a new generation, you can't go wrong with the Fur Flying Adventures series.