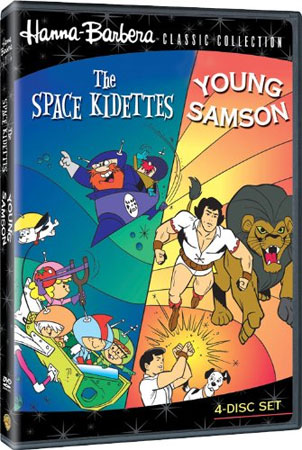 Warner Bros.'s classic collection of Hanna-Barbera cartoons on DVD continues with their newest release, The Space Kidettes and Young Samson. Available exclusively through WBShop.com, it is part of their "made to order" line of movies and TV shows.
Originally broadcast in 1967 as Samson & Goliath, Young Samson is a superhero cartoon about a teenager (Samson) and his pet dog (Goliath). Samson travels on his scooter, always vigilant for trouble. Whenever bad guys rear their ugly heads and unleash their nefarious plans, this daring duo shows up to save the day. Much like Prince Adam raising his sword to become He-Man, Samson claps his magic bracelets together to transform himself into his super strong Biblical namesake. And again similar to He-Man turning Cringer into Battle Cat, Samson can use his bracelets to change his pup into a vicious lion.
Samson & Goliath ran for 20 episodes of 30 minutes each. The adventures pit Samson and Goliath against everything from terrorists and witch doctors to robots and evil Mayans. After the initial broadcast in 1967, the show would return later in syndication with a name change to Young Samson, where it was paired with a new animated series, The Space Kidettes. The half hour syndicated broadcasts would begin with a Space Kidettes adventure before wrapping up with Young Samson. The Kidettes are a group of spacefaring kids who hang out in their space capsule clubhouse while thwarting the various plans of their nemesis, Captain Skyhook.
All twenty episodes of The Space Kidettes and Young Samson are collected on four DVDs in this new set. As with all of the Warner Archive releases, there are no special features beyond the episodes themselves. The complete collection released on March 8, 2011, and is available now through WBShop.