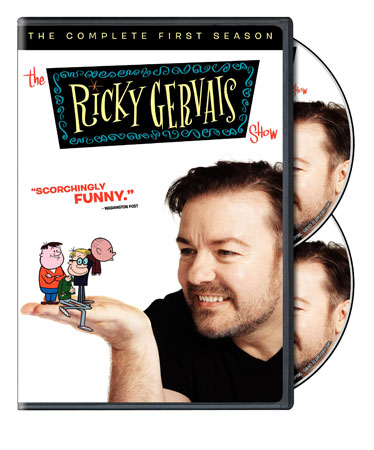 The second season of Ricky Gervais's award winning animated series premieres on HBO this month. In the leadup to the new episodes, the first 13 episodes have hit stores in a new collection, The Ricky Gervais Show: The Complete First Season.
The Show
Ricky Gervais is a busy man and is known for many things. Whether you recognize him as the creator of the original The Office, from his TV show Extras, or even from his single episode appearance on Alias, chances are that you've come across his material at some point. The British comedian has amassed a huge fan following through his many projects and creations, not the least of which is his record breaking podcast series.
Gervais has been recording his podcast since 2005 and even made it into the Guinness Book of World Records in 2007 for having the world's most downloaded podcast. Joined by Stephen Merchant and Karl Pilkington, Gervais consistently delivers hilarity. In February 2010, HBO developed a collection of the podcasts into an animated series that adapted the audio discussions into literally interpreted cartoons. In addition to winning over even more fans, the new show won an Emmy for Outstanding Individual Achievement in Animation in 2010. With the second season of the animated series set to premiere this month on HBO, Warner Bros has released the first season as a new DVD set.
The DVD
This new set collects all 13 episodes of the first season of The Ricky Gervais Show on 2 DVDs. The discs come in a standard plastic DVD case, along with a couple of bonus features:
Comedy Gala Animation
Episode Storyboard
The extras are a little sparse, but that hardly matters when you have the full first season of crazy discussions and the insane ramblings of Karl Pilkington.
Conclusion
The first season of this animated series is a fantastic adaptation of one of the funniest podcasts around. Fans of the show will want to add the DVDs to their collection, and newcomers should check out some of the clips HBO has posted online. Give the comedy a sampling, and grab the set if you're into Gervais and company's brand of humor.