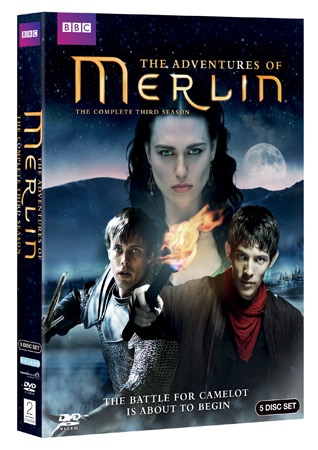 Arthurian legend has been a popular source of modern adaptation in all media, but few recent versions have gained the success and popularity of the BBC's Merlin. The third series ran in 2010 from September through December and now has arrived on DVD with a five disc box set.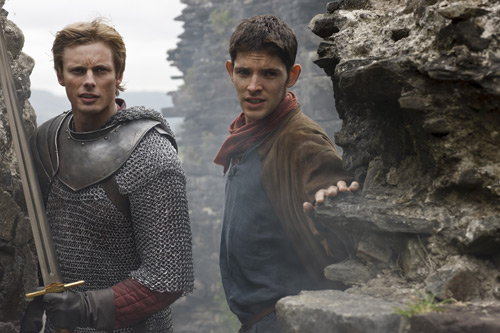 Lighter in tone and overall younger than Starz's recent Camelot, Merlin explores the familiar legendary characters and creatures with some degree of mythical accuracy while presenting some original twists and turns that veer the stories onto new and occasionally surprising paths. Many viewers have compared Merlin's connection to Arthurian legend to Smallville's relationship to the Superman comics, and that is a mostly apt comparison. Colin Morgan stars at the titular wizard, and Bradley James plays his young friend and confidant Arthur. This version of the legend presents Anthony Head (Buffy's Giles) as Arthur's father, King Uther Pendragon, a powerful presence with a vehement aversion to magic. Much of the story involves Merlin's friendship with Arthur as he tries to hide his magical abilities from the king.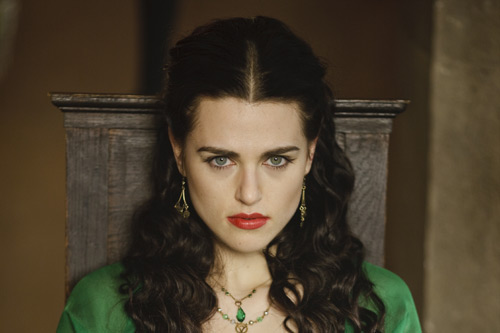 The third series opens with the transitioning of Morgana (Katie McGrath) into her expected role as a villainess and eventual nemesis to Merlin. An early episode also sees the arrival of Gwaine (Eoin Macken), who would become one of Arthur's trusted knights and rival for the affections of Gwen (Angel Coulby). Other plot threads in season three feature Uther's continued war on magic, even as Morgan's schemes cause his own sanity to waver. The thirteen episodes of the season build toward Arthur's inevitable ascension, though his rise to power is fraught with struggles both within the once and future king's family and throughout his kingdom.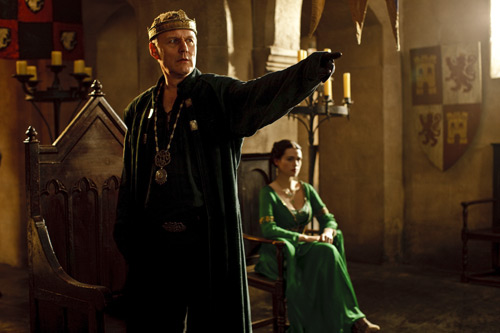 The new DVD set collects all thirteen episodes across five discs and also packs in a number of special features:
Cast and Crew Audio Commentaries
The Making of Merlin Season 3
Deleted Scenes
Outtakes
Photo Gallery
Wallpaper
Merlin's third season really picks up the pace from the previous two seasons. In context, seasons one and two really feel like they were setting the stage for the events that unfold in this bigger and more exciting outing. The end of the season sets in motion transitions and events that push the characters and stories forward into season four as Arthur and Merlin press toward their eventual destinies. This is the season when Merlin really comes into its own as a substantial Arthurian retelling, and it's a worthwhile addition to the BBC's growing DVD collection.