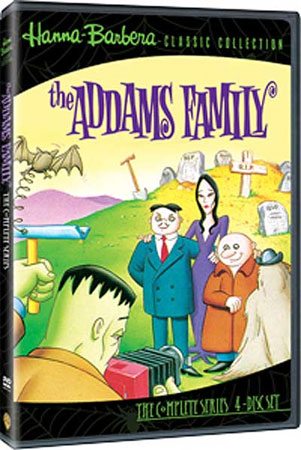 Earlier this month I reviewed the new Thundarr the Barbarian: The Complete Series DVD that was released as part of Warner Archive's growing collection. Now they're back with yet another new release of classic animation with The Addams Family: The Complete Animated Series, just in time for Halloween!
The original Addams Family TV series ran from 1964 through 1966 and launched a huge fandom that would inspire multiple movies, series relaunches, collectibles, and multiple animated TV shows. The first of these animated series aired in 1973 after members of the family appeared in cartoon form in a crossover Scooby Doo movie. Four of the original actors from the sitcom reprised their roles to voice their characters in the Scooby Doo appearance, but none of them came back for the regular cartoon once The Addams Family was picked up as an ongoing animated series. One notable voice actor for the series, however, is a young Jodie Foster, who shares duties playing Pugsley Addams with actor Ken Weatherwax.
Hanna-Barbera adapted The Addams Family into this new cartoon form, using character designs inspired by the original Charles Addams comic strips. All the usual suspects are featured, from Gomez and Morticia to Lurch and Uncle Fester, but the series breaks from the formula of the classic live action show by taking the family out of their creepy home and putting them on the road. The family tours America in a Victorian-style RV, hitting a new destination in each episode for crazy adventures.
There are 16 episodes in all, and the family's journey takes them from Mardi Gras in New Orleans to a western ghost town to a roller derby and eventually even to the Kentucky Derby. The tone and setup for the series are different than those of the original series, but the Addams's altogether kookiness is firmly intact. The DVD print is taken from a high quality original master, so the video looks great, as we've come to expect from the Warner Archive releases.
Fans of the cartoon will want to checkout this collection for nostalgia, and fans of The Addams Family at large who haven't seen this classic show now can have a proper introduction. The DVD set collects all 16 episodes across 4 discs. There isn't much in the way of extras, but the entire series is here and looks terrific. The Addams Family: The Complete Animated Series is available exclusively through WarnerArchive.com.