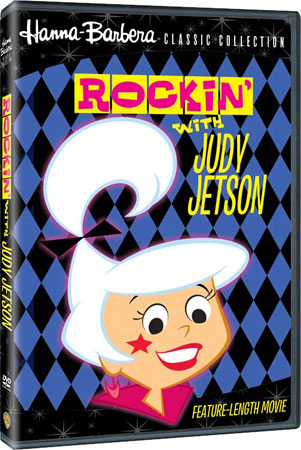 The Warner Archive has been bringing back loads of classic cartoons through their Make-On-Demand program that produces DVDs for customers as the orders come in. It's a low risk setup that helps a lot of lower profile animated shows and movies that might not have huge audiences get releases. The Hanna-Barbera Classic Collection in particular has been introducing new audiences to lots of old and unfamiliar features starring beloved characters that everyone knows. Such is the case with their newest release, Rockin' with Judy Jetson, which started shipping this week.
The Jetsons are no strangers to the Warner Archive, having previously been featured in several DVD releases, but this is the first time daughter Judy Jetson has had a movie all her own. The rest of the family makes appearances, but this one is a treat for Judy fans. The movie itself was originally broadcast in 1988 as part of the Hanna-Barbera Superstars series and runs around an hour and a half long. Judy Jetson, the perennial outer space teen, is a superfan of Sky Rocker, the biggest rock star in the galaxy. She decides to express her fandom by writing a song for him to perform in concert and sends it out to him. Judy's song gets mixed up with an evil encoded spell sent to Sky Rocker by the wicked Felonia Funk. When Felonia goes after Sky Rocker himself, Judy goes hot on her trail to rescue her idol.
Rockin' with Judy Jetson is a musical feature, full of songs like "Jupiter Jump" and "Surfin' in Space." The original voice cast from the cartoon series reprises their roles here, and they are joined by the likes of Peter Cullen (Optimus Prime from Transformers) and Rob Paulsen (Pinky from Pinky and the Brain). The humor is largely cheesy and usually is worth more groans than laughs, but it's the kind of endearing humor that is a staple of The Jetsons. The DVD release is produced from an original video master without any retouching. As such, there's some color flickering, as well as occasional specks and dust that appear on the screen. While it doesn't live up to the pristine video quality standards of today's cartoons, it's entirely watchable and should be a welcome addition for fans of The Jetsons.
Rockin' with Judy Jetson is available exclusively through the online WBShop.