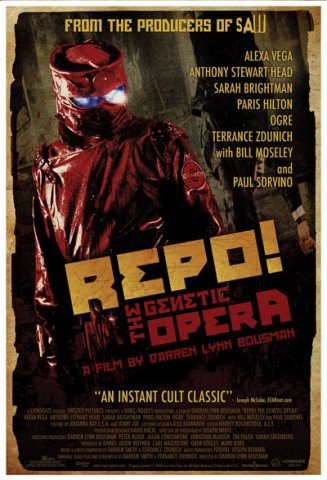 STARRING: Alexa Vega, Anthony Stewart Head, Sarah Brightman, Paris Hilton, Paul Sorvino, Ogre, Bill Moseley, Terrane Zdunich
Directed by Darren Lynn Bousman
Based on the Stageplay, Book, Music, and Lyrics by Darren Smith and Terrance Zdunich
SYNOPSIS: In the near future, an epidemic causes a series of random organ failures. GeneCo comes to humanity's aid by providing the world with financed organs. The policy saves the human race, but years down the road a surgery addicted society find themselves crazed on super painkillers and cowering in fear of the Repo Man, GeneCo's legal assassin. If your organs are from GeneCo and you fall back on your payments, the Repo Man will come to take back GeneCo property. The story revolves around Shilo (Alexa Vega), a sheltered girl who seeks to experience the world outside but who is under the constant watch of her father Nathan (Anthony Stewart Head). Unbeknownst to Shilo, her father is keeping a load of dark secrets, one of them being that he IS the Repo Man.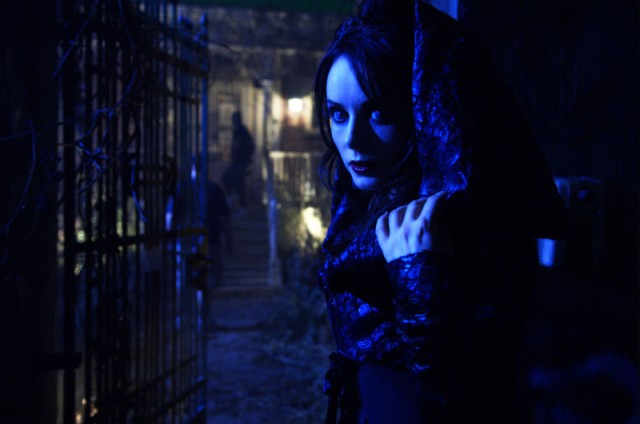 DVD FEATURES: "From Stage to Screen" featurette, audio commentaries, music sing alongs, webisodes, deleted scenes with commentary featuring director Darren Lynn Bousman and Paris Hilton.
ANALYSIS: The musical genre gets gutted by the torture porn horror genre made popular by the Saw franchise and the Hostel films. The final result is a unique yet chaotic film with the potential of being a cult classic. It is endearing to me when a director uses his abilities to try and give us something new. Say what you will about this melodic gore-fest, but even the naysayers can't deny that this film is an original. Sweeney Todd showed us that musicals could be more mature fare, as opposed to diabetic coma inducing musicals like Mamma Mia and High School Musical. Repo! dares to experiment with varying elements of horror, and intermingles them with the aesthetic style of films like Blade Runner. Then in an especially brave move, it sticks to its promise of being a full blown opera where dialogue is replaced by song, as opposed to the traditional book musical. The cinematic opera is extremely rare, especially nowadays, the rock opera doubly so. I haven't really seen a solid rock opera on film since The Who's Tommy and Jesus Christ Superstar. With that in mind, Repo! is a welcome arrival. What sets this one apart from the rest (melodically speaking) is the fact that Repo! is a goth rock opera, thus making the film a bona fide trailblazer. Whether or not it's successful on that front is up to the eyes and ears of the beholder.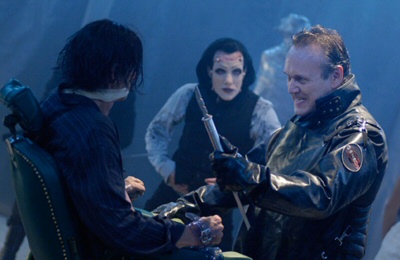 I say that last bit largely because this is not a film that is going to make everyone's top ten list. As a matter of fact it might even make a few top ten worst films of year. That is to be expected. I'm sure many who are unaccustomed to gore fests or even musicals may find this film unsettling to say the least. Director Darren Lynn Bousman never holds back any punches. He expects his audience to be prepared for the graphic imagery with which he assaults them. He also shows no shame in making them sit through one hundred minutes of goth rock with innards splayed across the screen. For me it is satisfying when a director gets to see his vision fully realized on the screen without compromise, but it does tend to make me wonder who exactly this film is made for. For example, I myself was allured to this film for my love of musicals and my love of the macabre. After being overly thrilled by Evil Dead: The Musical, I was very intrigued by the prospect of a horror musical with a dramatic punch, as opposed to the slapstick contained in Evil Dead. My point is that Repo! caught me at the right time, and those traits had made me intrigued to see it. Others may not be so lucky. Then again, that's how movies become cult films. They find their audiences through less conventional means. With the stellar DVD treatment this film received, it's clear that this movie will be most rewarding for the more adventurous moviegoers who also happen to have very eclectic taste.
Though the gore will indeed be a hard pill to swallow, mercifully it's not constant, and it is tame in comparison to the Saw films and even Wes Craven's Last House on the Left. It is very evident that Bousman's intent was to tell a dramatic tale which just happens to involve surgical extraction. The story is actually quite substantial and actually overshadows the gore by leaps and bounds. Bousman frames each and every one of these scenes with a rich visual style where the film is saturated with vibrant color and smooth motion, always a must for musicals. Never once should a musical have an angle held longer than it needs to be. Repo! never stops and never takes a rest. Bousman clearly knew how he wanted to film this movie, and it appears he got what he wanted.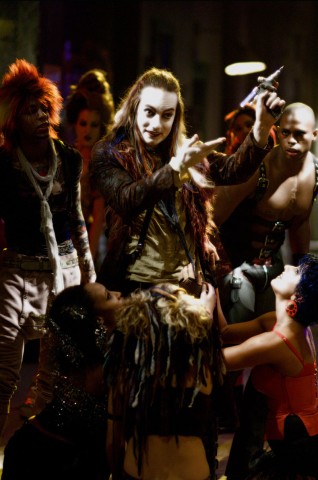 Credit must also be given to the cast. There is not a single lackluster performance in the lot. Yes, even Paris Hilton gives it her all! Alexa Vega sheds her Spy Kids image by playing a character that is vulnerable and afraid of the outside world. The person who owns this movie is indeed the Repo Man played by Anthony Stewart Head (of Buffy and Folger's Crystals fame). The Repo Man is unique in the horror sense because he is a man who buries his grief and rage into the job he despises yet takes a warped solace in. Head balances the Repo Man's torment and bloodlust like a tightrope walker without a net. He knows it would be easy to play it lopsidedly, but he handles it quite well. Another show-thief in the film is the always glorious Sarah Brightman as the fallen angel Blind Mag, a soprano vocalist who exchanged enhanced eyesight for her soul. Brightman is a majestic presence who brings much needed beauty in the morbid world of the genetic opera, and never once does she feel wasted. My main lament with the casting of Paris Hilton is not the fact that she was cast in the first place. It's the fact that her being in the film, more than likely, pushed away potential filmgoers as if they were watching Gigli. I have no fondess for Hilton, and I do agree with everything Trey Parker and Matt Stone did in their portrayal of her in South Park. But like J-Lo in Selena, sometimes people surprise you. Hilton provides a surprisingly large helping of self-deprecating humor which borderlines on satirical in her performance as Amber Sweet, a potential heiress and surgical addict who laces her constant fix with street quality painkillers. You get the hint that Paris was intent on abandoning her spoiled rich girl image for a spell in order to try something else. For all you haters, you can breathe a sigh of relief because she's not really the primary focus in the film. She spends much of the film quarreling with aggressive brother Luigi (Bill Moseley) and her grotesquely vainglorious brother Pavi (Orge) over who will inherit GeneCo after
their father's (Paul Sorvino) passing.
I've performed in many a musical in my life, and for me, discovering a new musical is a great thing, particularly if it is obscure. It is also a success if it has me wanting to hear the songs constantly and watching the film with the desire to play one (or many) of the characters if the opportunity arises. Darren Smith and Terrance Zdunich's music flows with an almost primal ferocity. There are songs in this story that are as potent as they are memorable. As I type this I'm playing "Legal Assassin," "Zydrate Anatomy," "Chase The Morning," and "At The Opera Tonight" on a loop so I can memorize them for any opportunities. Be they karaoke or Broadway, I gotta be ready. Though I will say I love the effect the opera format has on the narrative, sometimes it does tend to muddle the story somewhat, particularly when they opt to overlap lyrics which may reveal specific plot developments. The final scene at the opera is the primary gripe as I had to watch the film again to discern the plot revelations. This may display the composer's strength in lyrical arranging but it does tend to confuse the audience some on the narrative front.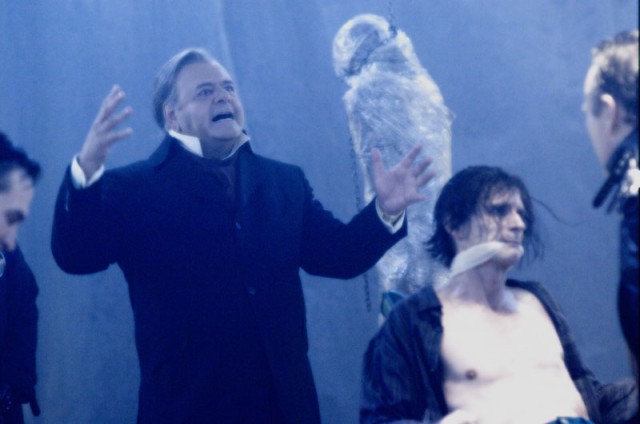 This film won't be winning any beauty contests, but if it won any "worst" contests it would be a disservice to many of the things that make Repo!: The Genetic Opera such a unique experience.
DVD ANALYSIS: The Blu-Ray version will definitely bring out the vibrant imagery of the film, and the extras enhance the Repo! experience with sing alongs and webisodes that put some of the characters into the spotlight. There are also two commentaries, along with deleted scenes with commentaries with Darren Lynn Bousman schmoozing Paris Hilton… If he knew what happened to Tinkerbell he might wanna think twice about that. Anyway, South Park references aside, the Blu Ray version is definitely the way to go for this film, and with the modest pricing it recieved at various locations it is a must.
ESSENTIALLY: A unique movie musical which may have sacrificed widespread accessability for experimentation with genrebending. It is also not for those with a weak stomach. However great songs and performances, along with strong direction, will assure the potential notoriety of being a cult classic.