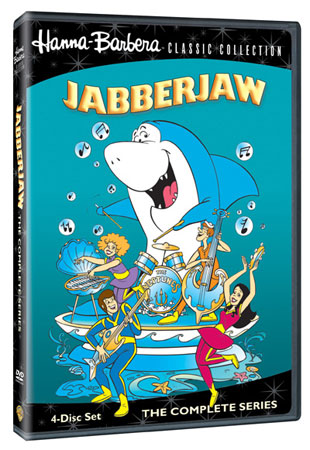 Not all sharks in the '70s wanted to eat Roy Scheider. In fact, some just wanted to play music and get some respect. Such is the plight of Jabberjaw, the star of Hanna-Barbera's half hour cartoon that debuted in 1976 and now has found a new home on DVD as part of the Warner Archive Collection.
I'd love to have been witness to the pitch meeting when Joe Ruby and Ken Spears (also co-creators of Scooby-Doo and Josie and the Pussycats) proposed Jabberjaw to the networks. I can imagine it going something like this:
Ruby & Spears: "The star of the show is Jabberjaw. He's Curly from The Three Stooges, except, you know, he's a shark?"

Network: "So he pokes other sharks in the eyes?"

R&S: "No, but he goes 'nyuk nyuk' a lot. And when he's not playing with the band-"

N: "Wait, this shark is in a band?"

R&S: "Oh yeah, didn't we say? He's the drummer for The Neptunes. He plays with the rest of the gang… Biff, Shelly, Bubbles, and Clamhead."

N: "This is a band full of fish?"

R&S: "No, no, the rest of the band is teenagers. Human teens."

N: "Jabberjaw lives on land?"

R&S: "Well, kind of. He breathes air and runs around upright, but they all live in an underwater city. And they tour to other underwater cities, except sometimes Jabberjaw can't come in because of the shark ejector robots."

N: "Why doesn't Jabberjaw just eat the humans and the robots? And why are they all living underwater?"

R&S: "Well, you know, it's the future. 2076 or something."

N: "Oh, yeah."
This is the kind of crazy brilliance that fueled animation in the 1970s. As a contemporary of Scooby-Doo and many other classic Hanna-Barbera productions, Jabberjaw hits all the points on the checklist for cartoons of that era. There's plenty of punnery, quite a bit of physical comedy, and even an inserted laughtrack. The show aired on ABC from 1976 through 1978 and ran for a total of 16 episodes. Jabberjaw himself has appeared in plenty of ensemble cast cartoons, parodies (including a 2002 appearance on Harvey Birdman) and comic books since then, securing his place in the Hanna-Barbera pantheon.
The full series is now collected on four discs as part of Warner Bros' expanding Warner Archive Collection. As with all the releases in the collection, there are no bonus features included on the DVD beyond the complete collected series itself. The video is not remastered but has been transferred from the best quality video master available in Warner's studios. It released on DVD on February 15, 2011, for a retail price of $29.95 and is available exclusively through WBShop.com. If you're nostalgic for goofy cartoons of the '70s, you can't go wrong with Jabberjaw.