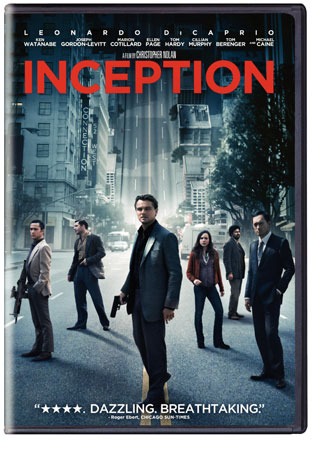 DVD: Inception
Release Date: December 7, 2010
One of the biggest and certainly one of the most talked about movies of 2010 (just check Twitter trending topics for a few months following the film's debut) is Inception, Christopher Nolan's brainbending foray into the worlds of dreams and corporate espionage. This week it hit DVD, and here's a look at the release.
The Story
If you're one of the few folks who hasn't already seen Inception, stop reading now, and go get this DVD. It's a fantastically original science fiction thriller that packs a lot of action and intelligence into its complicated plot, and it's best seen without foreknowledge of what you're getting into.
If you really must know a little bit before taking the plunge, it's a complex story set in a version of our world where corporate secrets can be stolen from sleepers' dreams through the use of drugs and sleep-inducing machinery. Leonardo DiCaprio plays Dom Cobb, an expert dream infiltrator who is on the run from the authorities for a crime he may or may not have committed. He seeks redemption through one final job that has him assembling a team to perform an elusive and difficult bit of dream manipulation on the heir to an energy empire, played by Cillian Murphy. If you need more than that, you can check out Fandomania's original review when Inception first released in theaters.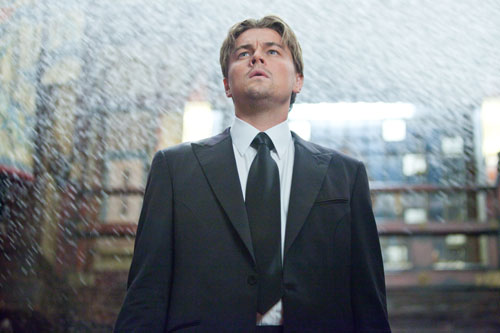 The DVD
The Inception DVD features the movie itself and advertises four special features:
The Inception of Inception
The Japanese Castle: The Dream Is Collapsing
Constructing Paradoxical Architecture
The Freight Train
All four features are of the making-of variety, and all four are very brief looks behind the scenes. To be honest, I was more than a little disappointed that this DVD did not pack more of a punch with its bonus features. Inception is an exceptional movie that deserves commentaries, featurettes that analyze the themes, and material that delves into the heart of the movie and its world. Instead we have a short look at how the effects people put a train on a city street.
By all accounts, the Blu-ray release of Inception has all the features the DVD release is lacking. I haven't seen the Blu-ray features first hand, but it sounds like the Blu-ray is the way to go with this one.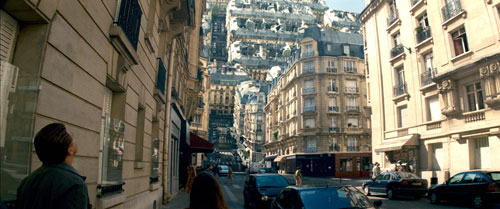 Snap Tag
An added incentive to getting the Blu-ray combo pack instead of the DVD is that Warner Bros. is promoting it with a "Final Kick" snap tag feature. They've released a special image that will unlock a new special feature with Christopher Nolan. You just have to snap a picture of the tag with your camera phone and send it via MMS to 95871 (for AT&T, Verizon, and Alltel customers) or just e-mail it to inception@snaptag.mobi to claim your reward. We're going to make it super easy for you to get in on this one. Here's the snap tag image you need, so just take a picture of this screen and send it in!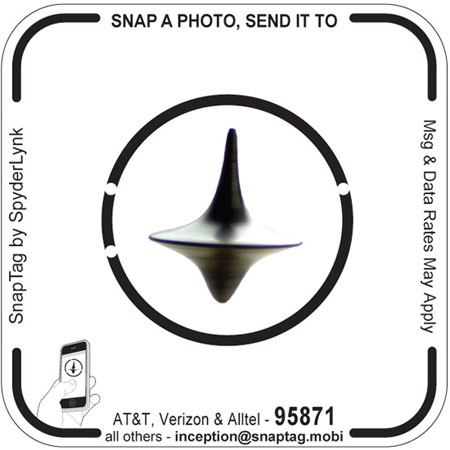 Conclusion
In conclusion, Inception is a fantastic and smart science fiction thriller that everyone needs to see. It has so many great moments and ideas that it will be fueling pop culture references and influencing future productions for decades. If you're just interested in the movie itself, you can get by with this DVD version. True fans of the movie will bypass this shallow release and go for the more robust Blu-ray combo pack.