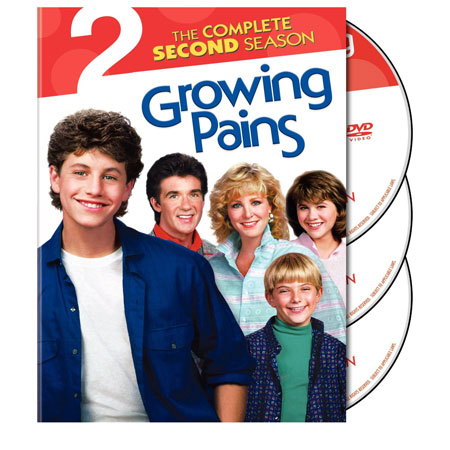 The 1980s were an awesome era for TV sitcoms, giving rise to a whole generation of now classic comedy, not to mention being the launch pad for many young actors' careers. Growing Pains arrived in the heyday of '80s sitcoms, premiering in 1985. It would run for seven seasons, not ending until 1992. The first season of the series released on DVD way back in February of 2006. Fans have been waiting for more than half a decade to get the next installment, which finally arrived in stores on April 26, 2011, with Growing Pains: The Complete Second Season.
Growing Pains is a family comedy that fits well into its sitcom genre, but it twists mid-'80s family dynamics a bit by presenting a dad who works from home as a psychiatrist while the mom goes back into the work force as a reporter. Alan Thicke and Joanna Kerns now are best known from their roles as the heads of the Seaver family, raising an increasingly zany but loving group of kids. These days, Kirk Cameron is best known as a Christian evangelist, but he first landed on the pop culture map as the Seavers' oldest son, Mike. Tracy Gold plays his sister Carol, while Jeremy Miller is the youngest son, Ben.
The series doesn't stray too far outside the box in this second season, and that's just what the fans love. The Seavers' everyday lives present plenty of drama, humor, and life lessons as we watch the kids get jobs, deal with peer pressure, and interact with their friends and family. There's even a specially placed anti-drug episode towards the middle of the season that has Mike and his friends hitting a college party. Many fans cite season 2 as their favorite year of Growing Pains. The characters had been established in the first season, and by the second year the writing was tight and the jokes on target.
This new DVD set collects all 22 episodes from the second season, which originally aired from September 1986 through May 1987. Growing Pains fans have been waiting a long time to get another DVD release, and this one delivers just what they wanted.