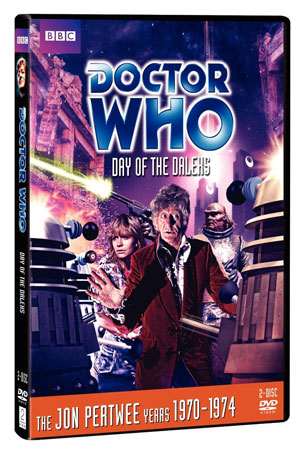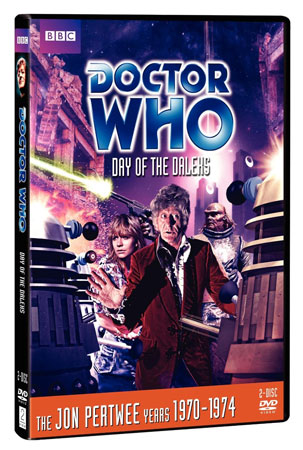 For quite a while, BBC has been releasing two classic Doctor Who adventures a month on newly remastered DVDs, chock full of special features. For September they've scaled back to one title, but it's a good deluxe set that features some of the Doctor's most notorious nemeses! Doctor Who: Day of the Daleks arrives in stores on September 13, and here's a look at the new DVD release.
Originally shown as a four part serial that aired in January 1972, Day of the Daleks is the sixtieth Doctor Who adventure and serves as the start of Jon Pertwee's third season playing the Doctor. The serial opens with Sir Reginald Styles hard at work on facilitating a peace conference that would prevent World War III, which has been brewing since the previous season. A strange soldier breaks into Styles's study with a gun and nearly kills him but somehow disappears into thin air before pulling the trigger. With the peace conference work being of the highest priority, the government calls upon the Brigadier, who in turn summons the Doctor to investigate. The situation goes from strange to stranger once the Doctor and his companion Jo arrive, only to end up in a far future Earth under Dalek subjugation.
This classic adventure features many of the fan favorite characters and villains from Jon Pertwee's tenure in the TARDIS and runs around an hour and a half in length. The serial gets a fantastic remastering for the new DVD release, bringing it up to par with the rest of these classic stories BBC has been releasing for modern audiences. Additionally, the new DVD actually features two discs, both overflowing with the following supplementary material and extras on Disc 1:
Audio Commentary with Anna Barry (Anat), Jimmy Winston (Shura), Barry Letts (producer), Terrance Dicks (script editor), and Mike Catherwood (vision mixer)
Blasting the Paste – a 30 minute making-of featurette
A View from the Gallery – Barry Letts and Mike Catherwood on vision mixing
Nationwide
Blue Peter
Photo Gallery
Along with all these bonuses, the second disc also contains a special edition of Day of the Daleks, featuring new effects, revoiced Daleks, and additional footage. To accompany the special edition, there are even more features on Disc 2:
The Making of Day of the Daleks – Special Edition
Now and Then
The UNIT Family – Part 2
The UNIT Dating Conundrum
The Cheating Memory
Who fans should check out this new set, as both the remastering and the special edition really improve these classic episodes. Couple that with the big array of bonus features we've come to expect from BBC, and you have a Doctor Who DVD set not to miss.