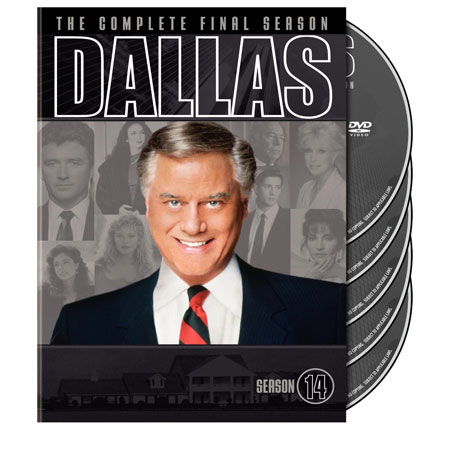 True confession time. Dallas premiered on CBS in 1978, the same year I was born, so I grew up with my mom tuning in to it every week. As such, lines like "Who shot J.R.?" and "It was all a dream!" punctuated my childhood, and I could name pretty much any character on the show (a talent I chose not to exert openly during elementary school or any time thereafter). I didn't understand all the family and business politics and backstabbery that were going on, but an appreciation for that came later, probably around the time Bobby Ewing was hanging out with Chrissy from Three's Company on some show called Step By Step. Thusly steeped in a childhood of this stuff, I jumped at the chance to review the fourteenth and final season of Dallas, released this week on DVD by Warner Bros.
The Season
As a pioneering nighttime soap opera, Dallas brought a lot of the conventions of daytime serials to primetime and staked a unique claim. That is to say, the show got away with a lot of stuff that never would fly on today's networks. From giving us crazily melodramatic characters and situations that would become cornerstones of pop culture to having the guts (or nerve, depending on who you ask) to obliterate an entire season of the show via dream, Dallas was one of the first of its kind. It would pave the way not only for its own spinoff series Knots Landing and contemporaries like Falcon Crest and Dynasty, but also for future nighttime soaps like Melrose Place. Dallas just did it earlier and arguably better.
After 13 seasons of wheeling and dealing, murder, and oil business gone insane, Dallas returned for a final season that ran from November 1990 through May 1991. Many of the longtime favorites were back, including Larry Hagman, Patrick Duffy, and Ken Kercheval, and the season itself delivered plenty of drama, action, and tragedy. The real talking point of the season is, of course, the final episode, in which an abandoned and drunken J.R. Ewing wanders Southfork Ranch and contemplates suicide. Joel Grey memorably guest stars in the final episode as an angel (or is he?) who takes J.R. on an It's a Wonderful Life inspired trip through an alternate reality where J.R. never was born. The series ends appropriately, leaving plenty for fans to discuss until the reunion movie hit CBS a few years later.
The DVD
As the final season of Dallas aired in the early '90s, the DVD presentation is in standard, non-widescreen. All 23 episodes are collected here and packaged in a single plastic case inside a cardboard slipcover. Unfortunately the release includes no real special features. It seems like this would have been the perfect opportunity for at least some new interviews with the surviving cast, but there's nothing included aside from the episodes themselves.
Conclusion
Dallas is a landmark TV show, and it's about time it had a proper DVD release. This set concludes the standard season DVD collection, with only the TV movies remaining to transfer. Longtime fans of the show, as well as folks in my generation who grew up with J.R.'s villainy, will appreciate the nostalgia collected here. The 14th season of Dallas released this week on DVD for $39.98.