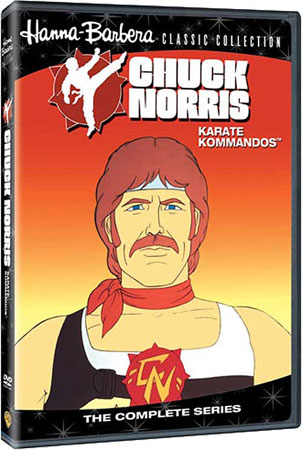 It's common knowledge that Chuck Norris is a man of action. You know that he's the kind of guy who spits into the wind and calls it a hurricane. You know that his roundhouse kicks were responsible for both the leaning Tower of Pisa's angle and the Apollo 11 moon launch. But did you know he was the star of his own 1986 cartoon series? You shouldn't feel bad if that bit of Norris knowledge slipped by you, as the show only lasted for five episodes and is just now making its DVD debut with the Warner Archive's release of Chuck Norris: Karate Kommandos, available exclusively at the WBShop.
Karate Kommandos predates Mortal Kombat by more than half a dekade, establishing that Chuck Norris was indeed the first person to intentionally misspell words kontaining the letter "c." The GI Joe cartoon started the year before Karate Kommandos, but I maintain that Chuck Norris still invented the trend of ending each episode with a "knowing is half the battle" moral lesson. He used time travel to do it. Which he also invented.
At the center of the show are Chuck and his band of do-gooders, the Karate Kommandos. In addition to Norris, the team also includes a samurai warrior, a sumo champion, a tech expert, and her younger brother. Also along for the ride is Chuck's young ward, ironically named "Too Much," a phrase otherwise unknown to Norris. Being a multinational and multitalented team in the '80s, they are compelled to seek out bad guys to kick and punch. Klaw and his sidekick Super Ninja (yes, that's his name) arrive just in time to provide a target for said kicking and punching. Each of the episodes in the series has the Kommandos going up against Klaw's terrorist organization VULTURE. The adventures take them from under the sea to outer space to Voodoo Island. For the show being only five episodes long, Chuck and the gang certainly get around.
Each episode begins with a live action segment featuring Norris, and each ends with a spelled out moral lesson. This is pure '80s gold, full of all the cheesy awesomeness you would expect from a Chuck Norris cartoon. It has been featured occasionally on Adult Swim, but this is the first time the whole series has been collected. It was originally created by Ruby-Spears Productions and now is a part of the growing Hanna-Barbera Classic Collection on DVD.