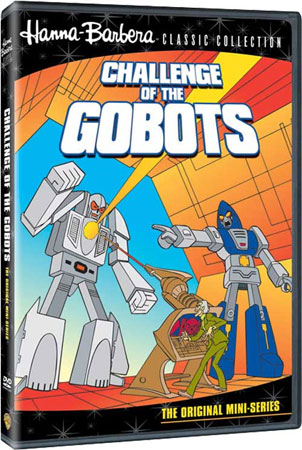 Starting in the mid-'80s, the Transformers became a dominant force in toy aisles around the world. Robots that changed into vehicles through ingenious plastic and metal engineering captured the imaginations of a generation, and there was no doubt that Takara and later Hasbro were onto something big. As with anything that becomes popular, there would be imitators and second-string versions of the original. For the Transformers, that would be the GoBots, similarly sentient alien robots with shapeshifting capabilities. The GoBots, deserved or not, have gotten a bad rap since their release for being nothing more than Transformer knockoffs. Calling something "the GoBots of (insert better similar movie, game, or toy here)" is a common and disparaging phrase.
That said, I'm not ashamed to admit that I was all about the GoBots when I was a kid. I have fond memories of getting a bunch of the toys, including a big base thing with a button activated siren on top. I also had Transformers, but the GoBots always held a special place in my heart. I wasn't so much into the cartoons as I was into just playing with the toys and transforming and untransforming them all a million times over. I do make disparaging jokes comparing other things to the GoBots these days, but I always feel a little guilty about it as I remember the fun I had with these robot guys when I was little.
Probably because I was more into the toys and less into the TV show, I don't have a lot of memories of Challenge of the GoBots. It started as a five episode miniseries produced by Hanna-Barbera that would launch an ongoing cartoon series that lasted nearly seventy episodes. As with many cartoons of that era, the GoBots series really was little more than a promotional tool for selling more action figures and playsets. New characters that popped up in episodes were sure to show up in toy stores before long. As blatant as it is, there's a sort of endearing audacity about such up front product placement that was a defining characteristic of a lot of cartoons from the mid '80s.
The GoBots story hits a lot of the same notes as the Transformers one, the biggest variation being that the GoBots started out as human-like aliens. After a conflict between the heroic Guardians and the evil Renegades devastated their home planet of GoBing, the Last Engineer saved his people by putting their brains into GoBot techno-bodies. So the GoBots essentially are human brains inside robot bodies. As always is the case when stuff like this happens, shenanigans ensue, and the now-metally GoBots launch into battle against each other with the fate of Earth in the balance.
Nobody is going to claim that Challenge of the GoBots is high quality, must-see TV, but there's no doubt that it'll carry a lot of nostalgia for now-grown kids who remember this show from childhood. The Warner Archive has added the original five-episode miniseries to their growing library of DVDs, and it's now available exclusively through WBShop.com.