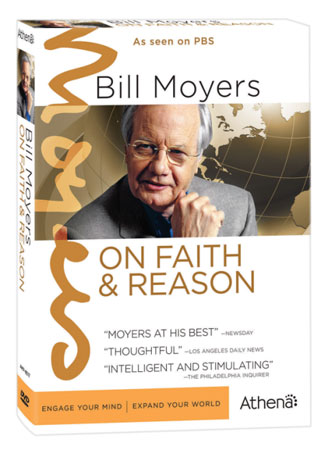 Neither Bill Moyers nor discussions about religion (unless it's about the Goa'uld or the Cylons and their "one true God," of course) seem like standard topics for Fandomania to cover. Learning is a big part of being a geek, though, and when you throw writers like Margaret Atwood and Salman Rushdie into the mix, Bill Moyers: On Faith and Reason seems to be a good fit.
Bill Moyers has been in the public eye for a long time, both in journalism and in politics. He was the White House Press Secretary under Lyndon Johnson in the mid '60s, he was the publisher of Long Island's Newsday in the late '60s, and he has been an analyst and correspondent both at NBC and at CBS throughout the '70s, '80s, and '90s. In 1988 he produced his first documentary series for PBS, Joseph Campbell and the Power of Myth, which took Moyers to talk about intellectual and historical topics with the likes of George Lucas. Seventeen years later, Bill Moyers presented a new PBS series, this time tackling questions of faith and religion.
On Faith and Reason seeks to explore one central question: "In a world in which religion is poison to some and salvation to others, how do we live together?" The seven episode series aired on PBS in 2006, inviting a range of well known intellectuals, artists, and public figures to talk about their own opinions and faiths. Each episode features a different guest and occasionally a pair of guests to talk with Moyers:
Episode 1: Indian author Salman Rushdie presents an atheist viewpoint on religion and its implication in politics and art.
Episode 2: American novelist and Catholic Mary Gordon talks about the role of belief in culture, and British philosopher Colin McGinn presents a counterpoint as an atheist who formerly was Catholic.
Episode 3: American rapper Will Power and British author Jeanette Winterson discuss the role of ancient myth in their art.
Episode 4: Belgian writer Anne Provoost and Israeli writer David Grossman talk about being a "chosen people."
Episode 5: Catholic American writer Richard Rodriguez and British Evangelical scientist Sir John Houghton talk about maintaining faith in their religion despite factors in the world and society.
Episode 6: Agnostic writers Margaret Atwood and Martin Amis discuss their writings about fundamentalism.
Episode 7: Buddhist nun Pema Chödrön talks about insights from her own spiritual journey.
The wide range of nationalities and beliefs represented here keep On Faith and Reason from sliding too far towards atheism, agnosticism, or a particular religion, and while the guests all are passionate about their lives and faiths (or lack thereof), the overall series manages not to be confrontational or overly preachy. This isn't an indoctrination tape or a project bent on convincing viewers to follow a particular path. Rather, it's a well developed and engaging intellectual examination of religion's place in our world today.
The series released from Athena and Acorn Media as three DVDs in a slipcover case. In addition to the seven episodes, the set also includes a twelve page viewer's guide, as well as biographies of all the participants.