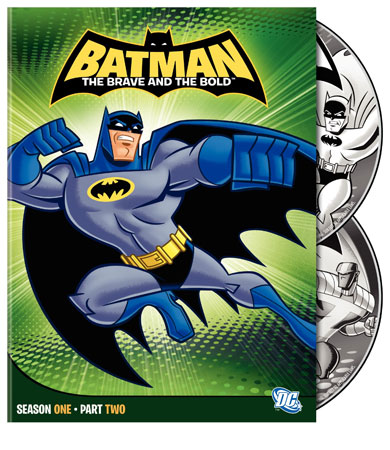 Batman is a character with a rich and varied history, and his popularity has never been higher. Just check out the top of our list of the 100 greatest fictional characters that our readers built. Given Batman's longevity in pop culture, it's no surprise that he's had several successful animated TV series, the most recent of which is Batman: The Brave and the Bold. The second half of the first season releases today on DVD with Batman: The Brave and the Bold Season 1 Part 2.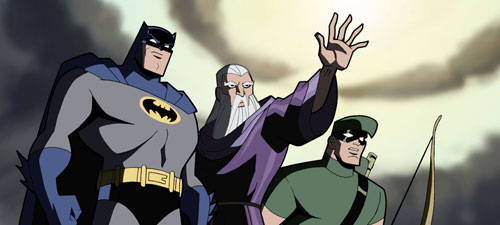 This newest Batman series breaks with the dark and brooding mood that has become synonymous with Batman and his world. Rather than depict Batman lurking in the gloomy shadows of Gotham City, this show puts him front and center in lighter and even often humorous adventures. In keeping with the format of the comic series of the same name, each episode pairs Batman with another hero from the DC Universe. That's where this show will hold the most appeal for old school comics fans. Most of the characters who team up with Bats are second stringers who probably wouldn't be known quantities to the average Joe but who will be familiar faces to DC fans. Batman pairs with everyone from Booster Gold and Blue Beetle to Dr. Fate. He even has one unexpected team up with Sherlock Holmes!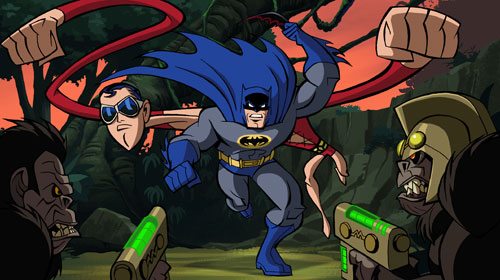 The Brave and the Bold is lighter fare than Batman: The Animated Series or even The Batman, but that doesn't make it shallow. In fact, it works marvelously for entirely different reasons than the previous series worked. Batman himself is more humorous, too, trading his skulking for the occasional wry one-liner. The overall show embraces Batman of the 1960s with some well placed doses of campiness, and there even are shout outs to the Adam West series.
A previous DVD release collected the first 13 episodes of season 1, and this new set assembles the remaining 13 on 2 DVDs. Here's a rundown of the episodes included here, along with Batman's team up partner for each:
Mystery in Space! (with Aquaman and Adam Strange)
Trials of the Demon! (with Etrigan and Sherlock Holmes)
Night of the Huntress! (with Blue Beetle and Huntress)
Menace of the Conqueror Caveman! (with Booster Gold)
The Color of Revenge! (with Robin)
Legends of the Dark Mite! (with / against Bat-Mite in an alternate reality)
Hail the Tornado Tyrant! (with Red Tornado)
Duel of the Double Crossers! (with Jonah Hex)
The Last Bat on Earth! (with Kamandi)
When OMAC Attacks! (with OMAC)
Mayhem of the Music Meister! (with Black Canary, Aquaman, and Green Arrow and guest starring Neil Patrick Harris)
Inside the Outsiders! (with Black Lightning, Katana, and Metamorpho)
The Fate of Equinox! (with Dr. Fate)
Appealing both to kids and longtime comics fans, there's a little something for everyone to love in Batman: The Brave and the Bold. The new DVD set releases today from Warner.