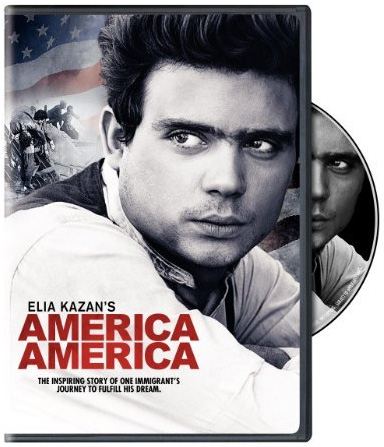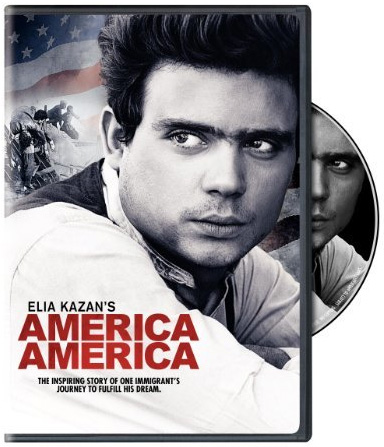 DVD: America, America
Release Date: February 8, 2011
Special Features: Commentary by Historian Foster Hirsch
From Elia Kazan, the director who gave us A Streetcar Named Desire, On The Waterfront, East of Eden, Viva Zapata, A Tree Grows in Brooklyn, and A Face in the Crowd, comes America, America, a black and white paean to his young Greek uncle's struggles to get out from under Turkish oppression in 1896 and come to America. The film runs three minutes shy of three hours, though it seemed more like a week in Calcutta.
The trials and tribulations of Kazan's young uncle, rebellious Greek Stavros Topouzoglou (Stathis Giallelis), trapped in poverty and oppression in Turkish Anatolia, and his dream of coming to America, is filmed by Haskell Wexler in black and white, which adds to the depressing feeling you're all but overcome by for the duration. Although Stavros's dream is to get out of Turkey and make his way to America, his family has other plans. They entrust him with every valuable thing they have hidden under the dirt floor of their cave, outlining a well-thought-out plan for him to make it to Constantinople (now Istanbul) where he is to connect with a cousin, who will use the small family treasure to stock his rug store and make the boy his partner. Over time, Stavros is to bring his sisters and brothers to Constantinople to save the family. Walking to Constantinople from his village, some family treasures laden onto a donkey and the rest hidden in his coat hem, Stavros meets barefoot Armenian, Hohannes (Gregory Rozakis), also looking to get away from the Turks. Stavros takes his shoes off and gives them to Hohannes who swears allegiance to Stavros.
However, his naïvete, misplaced trust, and frequent lapses of common sense find him frequently ripped off on his journey. He is taken advantage of, and altogether screwed by con men, thieves, and a hooker. He stubbornly persists with his goal, despite these many sidetracks. Eventually, he gets to Constantinople, penniless, and begs his cousin not to write and tell his father all the disasters that have befallen him. The cousin comes up with the idea of introducing Stavros to a local merchant with a view to marrying one of his daughters. Stavros resists this idea and believes he can earn passage to America as a hamal, a human beast of burden, carrying loads onto departing ships so back-breakingly heavy that they cannot be hoisted onto the hamal's back but must be lowered onto it, bending him literally in half with the weight. Even getting that terrible work proves difficult, until Stavros cunningly replaces a hamal whose load was so heavy that he dropped dead on the plank to the ship. This, and other jobs Stavros manages to scrounge, result in the accumulation of four British pounds sterling toward the 110 pound sterling passage to America. However, Stavros is robbed by a prostitute and is again penniless.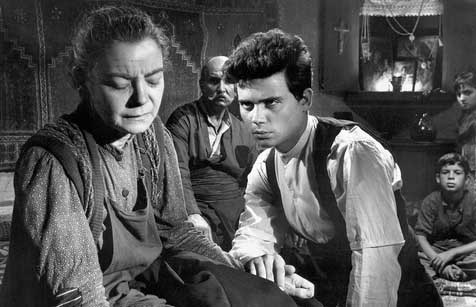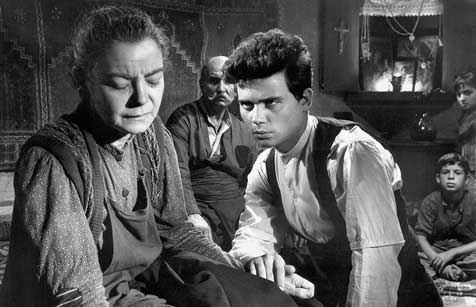 He finally returns to his cousin's rug store where he agrees to meet the wealthy merchant with all the daughters, one of whom falls for Stavros and a wedding is arranged. The father gifts the two young people with a house of their own, but Stavros cannot let go of his dream and, on the verge of marrying into this kind family, he dumps the girl (Linda Marsh), intending to spend her wedding dowry on his passage. Instead, he meets a wealthy rug dealer and his horny wife (Katherine Balfour), and is happy to oblige her desires in exchange for traveling to their next destination: America. He becomes a member of their shipboard party where he "entertains" the wife while the husband sleeps.
While in Constantinople, Stavros became reacquainted with Hohannes, the Armenian peasant, and they have become inseparable. Hohannes is also aboard ship, sponsored by a man bringing cheap labor to the U.S., and he has a ticket and documentation. In the meantime, the wealthy rug dealer discovers his wife's relationship with Stavros and gets his revenge by arranging to have Stavros deported the moment the ship is in New York Harbor. Hohannes, however, has contracted tuberculosis and knows he'll be unable to pass the Ellis Island health test all immigrants must pass in order to be permitted entry to the U.S. He leaves his documents for Stavros to take his place, and throws himself off the ship to drown the day before they enter the Harbor.
Stavros makes it as a laborer with the man who had sponsored Hohannes, and eventually earns enough money to fulfill his family's dream of bringing his sisters and brothers to America, one at a time, over the years. One of the brothers was the father of Elia Kazan.
Nominated for Best Picture, Best Director, Best Writing, Story and Screenplay, and winning for Best Art Direction (Gene Callahan), to me it was a chore to watch and for once, I wished it had commercials so I could sneak away for a few minutes. It was like watching every day of someone's life, including all the boring times when nothing happens and not caring when something did happen.
Because Kazan directed it, it has a place in motion picture history. Otherwise, not so much.
Rating: 2 / 5 Stars