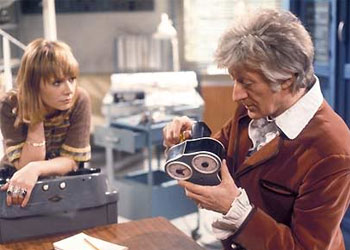 With Doctor Who fandom at an all-time high and the Eleventh Doctor's first season having just ended, BBC is keeping a steady stream of classic Who rolling out to DVD. A quartet of adventures joins the home video collection next week with two Tom Baker outings, one from Jon Pertwee, and a fourth from William Hartnell all hitting stores on July 5. They sent us preview copies of these newest releases, and here's an advance look at what you'll soon be adding to your growing set.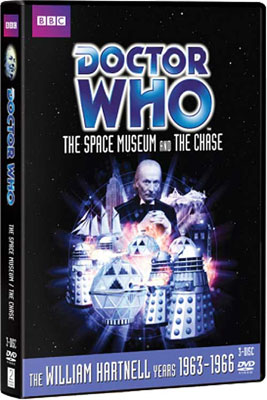 Taking a trip back to 1964, these two stories feature William Hartnell as the First Doctor. The first adventure in this three-disc set, "The Space Museum," might remind new Who fans of a few choice scenes from the most recent Doctor Who season finale. In this Hartnell adventure, the Doctor and his companions are exploring a museum that contains conquests of a mighty space empire. After finding some familiar relics, they stumble upon their future selves, preserved and on display. This one runs four episodes and is accompanied by an audio commentary, two featurettes, and a holiday Doctor Who spoof starring Christopher Green.
The second of the two stories in this release is "The Chase," a six-episode arc that pits the Doctor against his nemeses, the Daleks. This one comes with a slew of additional material ranging from an audio commentary to a big assortment of featurettes. Among the extras are a retrospective about the villainous Daleks, as well as specials about the Doctor's companions during this era and another about the making of the props for this story.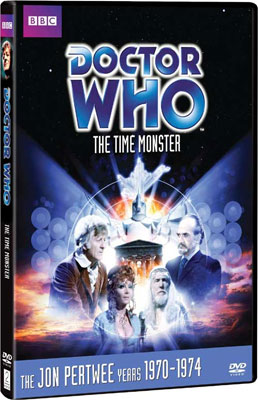 The episodes comprising "The Time Monster" originally aired in 1972 with Jon Pertwee at the helm. This story sees the return of the evil Master, this time plotting to control all of time. Along with "The Time Monster," which clocks in around two-and-a-half hours, this single-disc release also boasts an audio commentary, as well as an intriguing look at the science behind the story.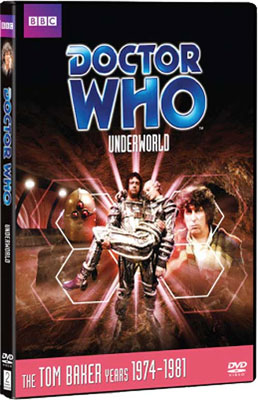 No, this isn't the vampires vs. werewolves movie series. Rather, it's a 1978 story arc starring one of the most beloved Doctor Who actors of all time, Tom Baker. In this one, the Doctor and his companion Leela journey with a starship captain and his crew to recover essential Minyan race banks needed to save a race. The audio commentary on this one includes Tom Baker himself, as well as Louise Jameson (Leela) and writer Bob Baker. There's also a "making of" special included here, along with an assortment of other special features and goodies for Who fans.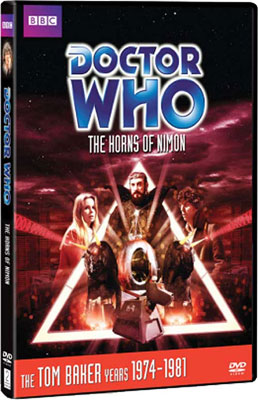 The fourth DVD release is another Tom Baker adventure, this time teaming the Doctor up with Romana (Lalla Ward) and K-9. The time traveling trio find themselves on a spaceship full of young sacrifices on their way to a planet to be given to a creature called the Nimon. In addition to the usual audio commentary for the episodes, this DVD release has a featurette about Blue Peter, an interview with the writer, and a brief feature about the music from these episodes.
---
All four of these releases will be in stores next Tuesday, joining the ever-growing library of classic Doctor Who DVDs from BBC.