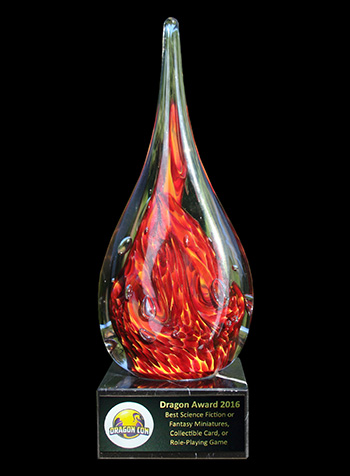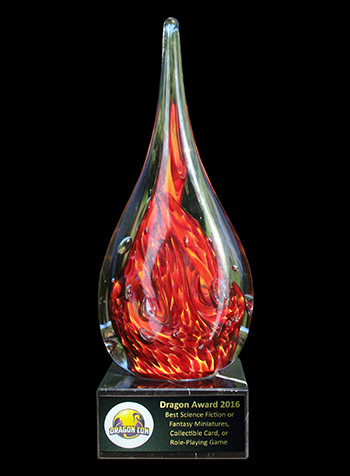 Dragon Con, the massive pop culture and genre media convention that takes over downtown Atlanta, Georgia, every Labor Day weekend, added a little something new to this year's roster. As Dragon Con has grown and evolved over its 30 years of existence, it has earned a significant standing among fandom conventions and has garnered a huge amount of credibility and respect, both from fans and the industry that inspires it. The 2016 event, which ran from September 2 through September 5, leaned into that established reputation by presenting a brand new accolade, The Dragon Awards. The convention describes the awards as follows:
In a world of the ordinary, the Dragon is most astonishing. Its heart burns with determination and desire as it soars from page to canvas to screen. The Dragon's inner fire elevates it above the mundane, and once released, inspires respect and awe from all who witness its greatness.

Like the Dragon, our recipients are extraordinary and unique. Fueled by the passion for their art, they have spread their wings and soared above us all. Their inner fire, the burning in their hearts and souls, cannot be restrained. Once set free, their work, their fire, has influenced and inspired countless others, burned into our hearts and minds forever.

In the spirit of the Dragon and with infinite admiration, we created The Dragon Award as a token of their individuality and greatness. We are pleased to present all of our award winners with the essence of the Dragon, its fire, suspended perpetually as a permanent reminder of their contributions.
Selected through an open nomination and voting process, the very first Dragon Awards were presented in a ceremony at Dragon Con on the afternoon of September 4, 2016, in the Atlanta Hyatt Regency. Here is the full list of winners:
Best Science Fiction Novel
Somewhither: A Tale of the Unwithering Realm by John C. Wright
Best Fantasy Novel
Son of the Black Sword by Larry Correia
Best Young Adult/Middle Grade Novel
The Shepherd's Crown by Terry Pratchett
Best Military Science Fiction or Fantasy Novel
Hell's Foundations Quiver by David Weber
Best Alternate History Novel
League of Dragons by Naomi Novak
Best Apocalyptic Novel
Ctrl Alt Revolt! by Nick Cole
Best Horror Novel
Souldancer by Brian Niemeier
Best Comic Book
Ms. Marvel
Best Graphic Novel
The Sandman: Overture by Neil Gaiman
Best Science Fiction or Fantasy TV Series
Game of Thrones – HBO
Best Science Fiction or Fantasy Movie
The Martian
Best Science Fiction or Fantasy PC/Console Game
Fallout 4 by Bethesda Softworks
Best Science Fiction of Fantasy Mobile Game
Fallout Shelter by Bethesda Softworks
Best Science Fiction of Fantasy Board Game
Pandemic: Legacy by ZMan Games
Best Science Fiction or Fantasy Miniatures/Collectible Card/Role Playing Game
Call of Cthulhu Roleplaying Game (7th edition) by Chaosium Inc.
Information about the voting process for the 2017 Dragon Awards will be posted on the official website in October.