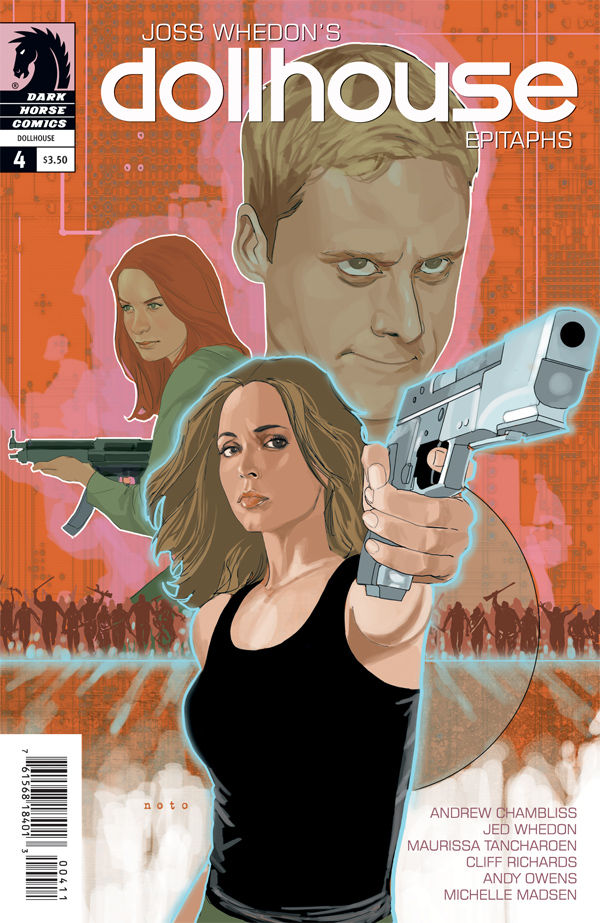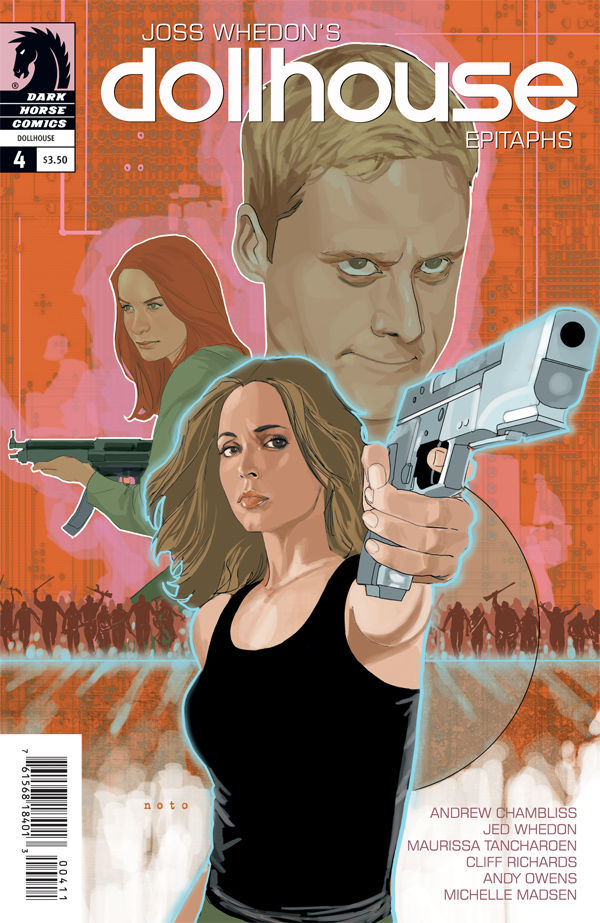 Issue: Dollhouse: Epitaphs #4
Release Date: September 14, 2011
Writer: Andrew Chambliss, Maurissa Tancharoen, Jed Whedon
Pencils: Cliff Richards
Inks: Andy Owens
Colors: Michelle Madsen
Cover A: Phil Noto
Cover B: Stephanie Hans
Publisher: Dark Horse Comics
The fourth issue of Dollhouse: Epitaphs is, again, an issue of two halves. But one half is not equal to the other. The issue is divided between the ongoing adventures of Mag, Zone, and Griff, who we know will make it through and find the Dollhouse, and the story of Alpha's new evolution. Chambliss does a great job writing both but I find myself not caring about the capture-the-flag escapades of the band of survivors because the story of Alpha & The Ivies with back up vocals by Paul Ballard is just so damned interesting.
The interplay between Ivy and Ivy is always fun and interesting and touches on the concept that our experiences are what make us who we are. The longer that the two Sub-Ivies are diverging from Ivy 1.0, the more different they'll become to her — just as they are becoming different to each other, one experiencing life as a man, the other as a woman so physically different to how Ivy 1.0 looks.
But the Ivies give way to the meat of this issue which is the meeting of Ballard and Alpha. As suspected, it is indeed the inclusion of the Ballard personality that allowed Alpha to evolve and to start to fight his urges to maim and destroy. Ballard has Alpha restrained but wants to talk to him before killing him. During this talk, Ballard finds out that the part of him that's Alpha is the only thing that's keeping Alpha in check, but that piece of him got knocked off balance by a Wielder. With some verification from The Ivies, one of whom flirts with Ballard despite the fact that she's a man, Ballard buys the story and lets Alpha free. But only because Echo has disappeared.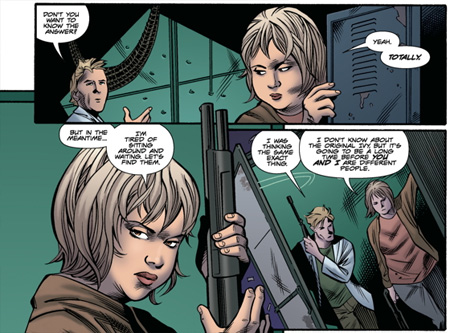 Echo has gone into Neuropolis, and the last mystery of the series is why she's gone and what's in there that's so important. As they go after Echo through the ruins and rubble, Alpha and his newly returned sidekick, Trevor, get caught in some shifting debris and fall into a basement, only to be greeted by the erstwhile Echo. There's only one issue left, it's about damn time she appeared!
The pacing, plotting and dialogue in this issue are all on the money, and the original Dollhouse pairing of Whedon and Tancharoen work their magic again. The Mag, Zone, and Griff story is interspersed with the main Alpha storyline, but not in such a manner that it becomes obtrusive. It's no surprise that Chambliss has the gift for Whedony dialogue as he worked on the Dollhouse TV show, and the script rings true.
The artwork seems to get better with every issue, and any previous difficulties distinguishing Alpha from Zone have now gone. It could just be the fact that they're in such different locales at this stage, but I prefer to think that Richards is getting more of a handle on the characters.
Phil Noto's cover for Issue 4 is a thing of beauty. He manages to create a rendition of Echo that's by no means photorealistic but still captures everything about her. Alpha and Mag too are wonderfully represented on the cover. If and when this series is collected by Dark Horse, I really hope that some more Noto work (like unused cover or sketches) finds its way in to the collection.
With one issue left to go, I can't help but wonder if there's something more to come from the fact that Ballard lives inside Alpha, and the feelings that he had for Echo remain there too. Will Ballard want them back? Will he take them back?