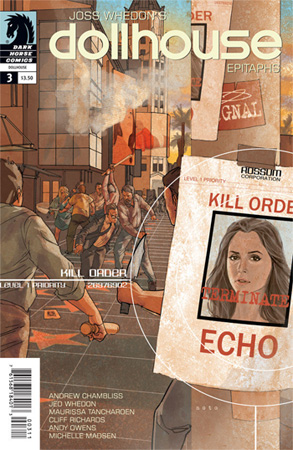 Issue: Dollhouse: Epitaphs #3
Release Date: September 14, 2011
Writer: Andrew Chambliss, Maurissa Tancharoen, Jed Whedon
Pencils: Cliff Richards
Inks: Andy Owens
Colors: Michelle Madsen
Cover A: Phil Noto
Cover B: Rebekeh Issacs
Publisher: Dark Horse Comics
Issue 3 of Dollhouse: Epitaphs brings us one step closer to the inevitable appearance of Echo and shows us more of Alpha's journey to the shepherd of lost minds that we see in the second episode of Epitaphs.
Trevor and The Ivies are looking for Echo in Tucson while Alpha is having a bit of a personality crisis. Something's happened to Alpha that has tripped a switch in his mind and there is a part of him that wants to help and do good. But there's also a part of him that wants chaos and mayhem, even if it is a controlled, sporadic kind of chaos and mayhem. The two parts of him that want different things apparently have the same capacity for making bargains. The version of Alpha that loves killing and chaos and having fun with knives must feel that there's no fun in what he does if the only people that he can torment are mindless Dolls. That rationale, along with the virtuous part of Alpha that has surfaced, has created a warrior for freedom — albeit one that goes off the rails sometimes and results in Gollum-like conversations between the warring sides of Alpha.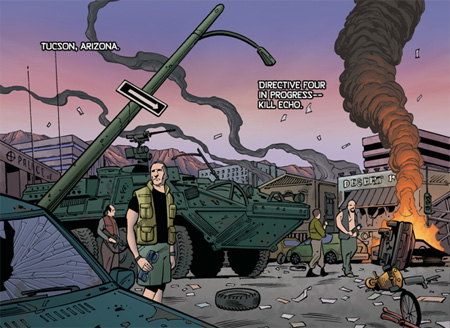 While Alpha is reasoning with himself, Trevor and The Ivies have discovered that Echo is leaving clues as to how to find her. Some are small, written on pieces of paper. Some are huge and obvious, painted on the side of the van that Alpha and The Ivies have in a too-good-to-be-true fashion.
Meanwhile, Zone is trying a one-man-army approach to rid the world of its evils, but soon realises that if he's going to succeed in his goal to rid the world of the mind-wiping tech, he's going to need help. We get to see a little bit of Zone's softer side too, which is a bit of a shock — I was starting to wonder if he even had a softer side.
Alpha and The Ivies follow the cipher directions that have ostensibly been left by Echo and on the journey and Alpha tells Trevor about his own history and that he has changed and evolved. Even before he was Alpha, he was a man who killed for the fun of it and even if it was possible to restore his original personality, it wasn't a personality that would be worth the effort.
The deep personal journey that Alpha is on is counterbalanced again by The Ivies and their (her) adventures in sexual exploration, showing us that in different bodies maybe the same person can become different people.
At the end of the cipher-trail, Alpha and Trevor wind up at a store that sold dollhouses. But instead of finding Echo, they find an understandably pissed-off Paul Ballard who doesn't believe that Alpha is fighting on the side of the angels. After a brief struggle, Paul tells Alpha that he knows all about the controlled chaos that he's left behind. Trevor doesn't take kindly to the news that Alpha has been killing people in order to keep half of himself under control. Trevor runs off and Ballard knocks Alpha out, ready to rid the world of Alpha and his influence.
We all know that Alpha is going to survive, just as we know that Ballard will survive. The same goes for Zone and Mag, though they really do seem like minor players in this story. That's pretty much the one weakness that this comic series has to keep fighting, we know that certain characters are safe and certain scenarios are inevitable. Having said that, this was another very enjoyable issue of the book, and seeing this portion of Alpha's journey is fascinating. Was the inclusion of Ballard's personality to the mix the catalyst for Alpha's change?
The next issue will allegedly bring Echo in to the narrative and I can't wait to see how the new Alpha reacts to her. The Paul-personality inside Alpha still loves Echo, in addition to the obsession that he already carried for her. But "real" Paul doesn't have those feelings for her anymore. It's going to be an interesting reunion, that's for sure!