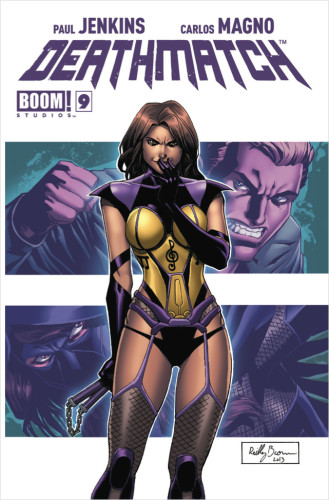 For those readers unfamiliar with the series, Deathmatch is a BOOM! Studios title launched in October of 2012 and billed as "The superhero battle royale you can't get from Marvel or DC!" According to the series description, which I'll quote directly because it reminds me of the premise of one of my favorite episodes of the Adult Swim show The Venture Bros., "A powerful and mysterious supervillain has imprisoned the world's greatest superheroes, forcing them to fight to the death until there is but one victor."
Note: This recap may contain spoilers!
The concept could be cheesy (after all, how many times in how many bars have comic book nerds like you and me argued over who would win in a fight, Batman or Superman?), but helmed by industry legend Paul Jenkins (Sentry, Inhumans, Witchblade, Captain America), known for his work on Marvel's similarly premised Civil War: Front Line and Civil War: The Return, this series has the chops not only to take the idea and run with it, but to do a good job of it as well.
The most recent installment in this ongoing series is Deathmatch #9, which is narrated by Sable, a female superhero costumed in elaborate blue body and face armor, complete with a hooded cloak. Where there once were thirty-two "supes" now stand six, and Sable among them.
Her strategy is one of silence and observation — she watches her fellow prisoners for signs of weakness, examines their fighting styles, and ekes out every bit of data she can on her captors.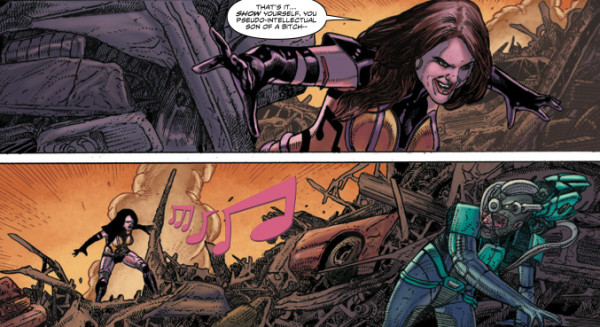 As the number of heroes still alive continues to dwindle, Sable's companions start to unravel, the weeks of stress and confusion brought on by being kidnapped and forced to fight some of the most dangerous people on Earth to the death finally wearing them down and fraying their nerves.
Although replete with cool, bloody fight scenes, Deathmatch is anything but a mindless action comic, as issue #9 illustrates. Its characters are complex, multi-faceted individuals that have histories of their own to go along with their superpowers, and the stress of being forced to kill people you've known for years — perhaps even dated — makes for particularly timely and interesting dialogue mixed in with the fight scenes.
In the end, the only way to make Deathmatch any better would be if Jenkins could actually use the names and likenesses of Marvel and DC heroes. But ultimately, that would also make the series beholden to the existing politics and relationships developed among those characters after so many years of publication, and I think Jenkins's creativity is better suited to more original characters that he can develop as the series continues.
Deathmatch #9 is written by series author Paul Jenkins, with art by Carlos Magno (Planet of the Apes, Transformers), colors by Michael Garland (Secret, Extermination), and letters by Ed Dukeshire. Reilley Brown created the cover art for Deathmatch #9, with colors by Archie Van Buren.