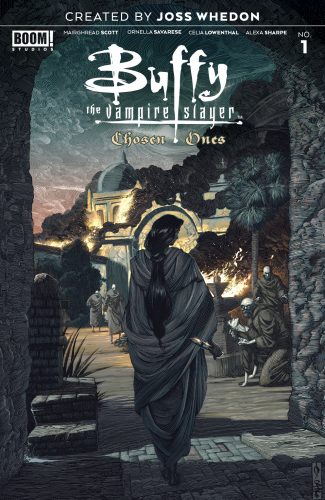 The Chosen Ones have reached back through centuries and we're treated to a glimpse at three of their stories. Slayers are chosen, but sometimes their destiny is hard to accept.
Note: This recap may contain spoilers!
We start off in Sunnydale, 1808, with the longest chapter in the issue. We see a young girl who is serving as a runner for what appears to be a shady man named Jose. As she departs on her assignment, we witness a scream behind her and later learn that Jose has been killed. Was he dipping his fingers into issues that didn't concern him? Perhaps, but there is something sinister abreast in the town which must be stopped.
The story picks up two months later, as Father Luis brings Perez into the dusty cabin that used to belong to Jose, still stained with the man's blood. Perez is there under the guise of being Jose's distant cousin, and tasked by the family to take over the man's shop, but he's not all he appears to be. The priest tells stories of past attacks and we are under the impression that these would be vampires, preying on the townsfolk.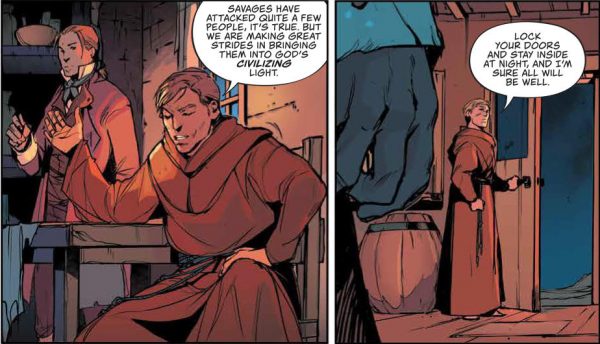 Upon the priest's departure, we get a bit more insight into Perez and his mission in town. He is a Watcher, come to find the Chosen One that has been fabled to reside in the area. And she does indeed live quite close, as it is the girl we saw earlier working for Jose. Hutash, as she is called, is quite good at what she does, but she is also fearful of strangers who have invaded her home. In her mind, Spaniards are all vampires, as they are the ones responsible for killing and kidnapping her neighbors. Hutash is the protector of her people and their future. She's taken on the task of trying to save those that are left, before everyone is taken away by the evil invading forces.
It's then that the story goes into destinies and stopping the vampires once and for all. Perez tells Hutash all about Slayers and Watchers, while she tells of the talk she's heard among the monsters, about a Hellmouth opening around there. And while Perez doesn't want to believe her, which is a flaw on his part, they do join forces to head to the sea caves where the vampires have been storing their victims. It is there that they come to find the whole village in the caves, captive, and a ritual going on to open a Hellmouth. See? Perez should really learn to listen to his Slayer! And to put bad to worse, one of the vampires is Father Luis. Bad times all around. The ensuing fight by Hutash and Perez's intervention helps to destroy the vampires and stop the Hellmouth from opening, but it doesn't eradicate it forever. The Hellmouth will remain there, waiting for someone else to open it.

The next chapter picks up in 14th century Bologna. Some kids are out looking for the fabled man-eater before their caregivers find them and usher them home. One member of the group, a girl named Silvia, is the center of the piece. Her nanny, Nanny Florentia, is concerned about the girl's future since she will have to leave soon. Silvia is maturing, turning thirteen the next day, and Nanny Florentia wants to make sure Silvia is prepared for what lays ahead for her. She tries to make Silvia see that hanging around boys isn't right, that she's wasting time with those less mature children, but Silvia is her own person and it does not appear she will bend to her nanny's wishes anytime soon.
That night, Silvia's life takes a dramatic turn. Her papa bids her goodnight and says that Nanny Florentia wants to have a word with him. As Silvia grows drowsy, she notices blood on the yarn she's using and rushes to her papa's room to find Nanny Florentia has killed him. She is a vampire, what they call a man-eater, and she can make Silvia one as well. Florentia has some pretty warped notions of family, but Silvia will not be a part of that fantasy. Instead, the girl fights her, stabbing Nanny with her knitting needle and making her go poof. The girl then retreats to the woods, overwhelmed by what has happened, and that's when her female Watcher finds her there. It's going to take some time for Silvia to adjust and accept the destiny she has had foisted upon her.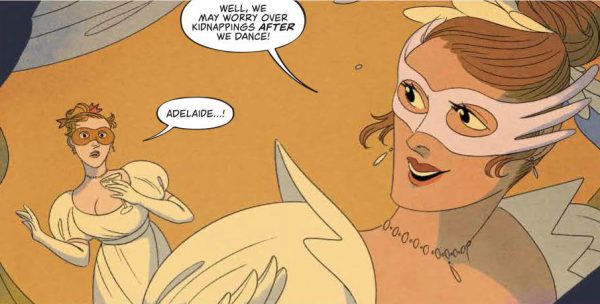 The final chapter is set in Paris, 1820. There is a masquerade going on, but there is also danger lurking outside. There has been a rash of kidnappings across Paris. No witnesses or suspects, just missing guests all around town, but the center point of the story does not want to worry herself with those thoughts at the moment. Tonight, Adelaide just wants to dance and have fun. She seems to be achieving just that, as a male guests lures her out to the garden and there is the impression that their night may end in some physical engagement.
However, romantic times are soon put on hold. He refuses to remove his mask and starts putting his hand upon her neck, so she slaps him. The gentleman is revealed to be a vampire and starts giving chase to Adelaide as she rushes away. The future looks dire for Adelaide, as the vampire corners her on a balcony and readies himself for attack. That's when the twist comes into play, as Adelaide pulls out a stake and reveals herself to be the Slayer. The vampire is taken care of and the town is once again safe, thanks to Adelaide. Quite less trauma than the previous two stories. And thus ends this journey through past Slayers.
Rating: 4 / 5 Stars