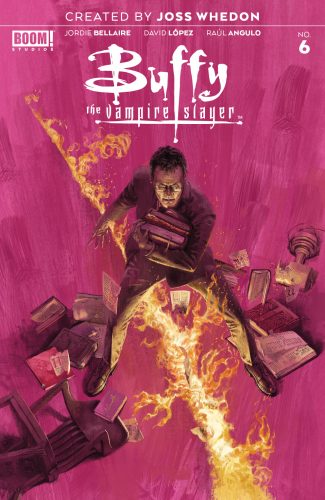 Sacrifices, secrets, and strategies all got a focus in this issue of the Buffy comic. The characters may seem similar, but their stories are going in a whole new direction from what we knew prior. And now we have to find out whose side everyone's on.
Note: This recap may contain spoilers!
We start off with Buffy and Willow making their way through the multiple tests and trials on their way towards securing a soul tie for Xander. But in the middle of all the drama is Willow's constant worries over Xander's situation. Though it's no one's fault but Drusilla's, what fate befell her best friend, Willow can't help but take on some of the blame herself. Hopefully Buffy can keep reassuring her that they will survive this and get Xander back without too much sacrifice on anyone's part.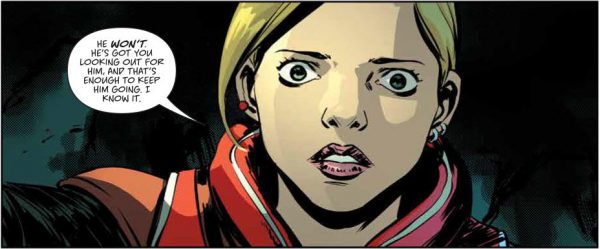 The problem, though, is that sacrifice is a part of the game, as is the push to protect others with your own life. And with stowaway Robin along for the ride, that constant fate of the Scooby Gang came to fruition once again. A soul tie cannot be made without a soul to replace it, so there's the question of which of Xander's friends will step up and make the offer. Of course it turns out that Xander's best friend is the one who does so, but will Willow's choice turn her towards the darkness? Will we see Dark!Willow emerge because of her selfless act? That's a question yet to be answered.
There are a few other questions that came up in this issue as well. One is whether Giles or Jenny is seeing Buffy for her true worth. Jenny thinks that Giles can do more to protect her, allow her to have a life as a teenager without the burden of the world already on her shoulders, while Giles knows that Buffy has it in her to be something more, something that the Slayer world perhaps has never seen before. And maybe they're both right, but it's a balance that Buffy has to carry no matter what canon we explore.

Another question is who the fourth person is that the statue-creature saw before her, when in reality there was only Buffy, Willow, and Robin present. Maybe it's to do with the duality of Willow's nature, now split in two because of her sacrifice. Or maybe it had to do with Robin, who we later learn is in allegiance with The Council and used his emerging relationship with Buffy as a way into the inner-circle.
And, finally, the big question is if Xander will be able to be brought back without negative ramifications. We saw that he was trying to help Jenny and Giles already, describing what he knows about Drusilla and her plan to enslave everyone. His description of the weapon was full of details, but will it be enough to track it down before Drusilla gets her hands on it? Or will the soul tie fail and Xander be lost to his vampire nature forever? It's an interesting story thus far and I look forward to seeing where it goes!
Rating: 4 / 5 Stars