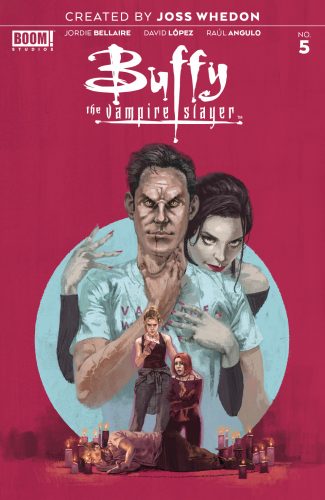 Unsatisfying plans, odd nightmares, and a friend in danger. Looks like Buffy's high school life is continuing to be a confusing mixture of destiny and teen angst. An interesting journey nonetheless.
Note: This recap may contain spoilers!
The issue opened with a confusing scene, but it all tied together as we got further into the plot. We first saw Buffy's having what appeared to be an existential crisis. She keeps killing vampires and wants one of them to take her shopping. Is she that lonely for company? We soon learn the point of all that, but first we had to go back in time to get the lead-up.

Buffy is having the typical high school angst and nightmares, but balancing that with her destined role is a bit difficult. She's still trying to work her way through her attraction to Robin, since she keeps giving him mixed signals. Buffy needs to step up and be direct – she likes Robin, Robin likes her, they should move forward on that. But she doesn't yet have the courage to do that, and she's got other things to deal with. Since she lost her phone, Willow has to play the go-between, delivering messages for Giles as he calls them to his home in the middle of the night.
The reason for the late-night call soon becomes apparent. Giles tries to give them warnings, ready them for what they're about to see before he takes them downstairs, but nothing could have prepared them for the sight. Xander is laying in bed, bloody, with a salt ring around him. And Jenny Calendar has put up a protection spell so Xander cannot get to them. He is in a very bad way, caught between death and demon, but he's not fully turned yet. There is a chance to save him if they can get a soul tie stone from Anya's shop. And, of course, there's no question. Buffy will do it, for Xander.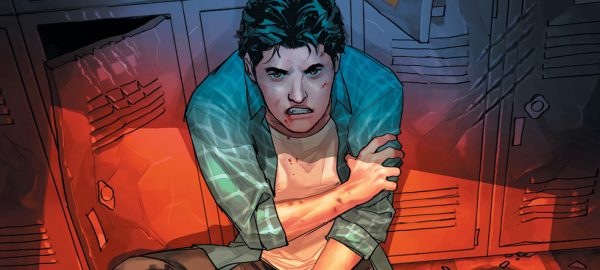 And that's when the opening scene comes back around. Buffy needs an escort to get into the shop, hence the need for a vampire. And it appears she does get in, since she comes back with an item, but it's not the soul tie stone. Instead, it's a parchment with a foreign language written on it. Buffy doesn't understand what it means, but Giles promises he will translate it while Buffy and Willow are at school. Yeah, right. Like Buffy or Willow will be leaving Xander's side anytime soon. They are there for the long-haul.
We should hope that Giles can figure out a way to save Xander soon because the current state he's in doesn't bode well for anyone. He does wake up and talk to his friends normally, joking with Willow at Buffy's expense, but then his demon emerges and it's a horrible thing to witness. If they can't save him, that's what he's to become. And if Dru has her way, she will create a whole army of strong men from Sunnydale to do her bidding. Poor Spike is too soft-hearted for her tastes, but with a weapon she discovers in one of her books she can create her army easily. And it's stored right there in Sunnydale, at the museum Joyce works at. Fun and dangerous times ahead for all involved.
Rating: 4 / 5 Stars