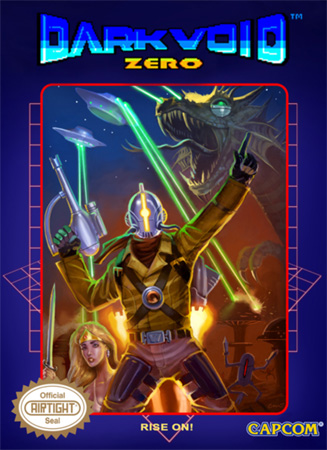 The April 12th, 2010 release of an 8-bit reimagining of the Dark Void video game was just announced, and it will be available for Windows PC and iPhone. In Dark Void Zero gamers will play as Rusty, warrior test-pilot and Nikola Tesla's trusted friend. With the help of your state-of-the-art rocket pack, you can blast through three deliciously retro levels in your quest to close Portal X and save the human race!
Dark Void Zero for the iPhone and PC is packed with new online features, including reward points for achievements via OpenFeint on the iPhone and Steam Achievements for the PC version. You can also connect with friends and link your Facebook account with OpenFeint. Complete Dark Void Zero to become the best on the block — or the best in the world — with the all-new Online Leaderboards that track scores and speed runs.
Dark Void Zero offers something for newbie gamers and DVZ veterans alike: the iPhone version of the game features carefully refined touchscreen controls, giving even amateur players the tools necessary for an amazing and intuitive gaming experience without the need for a controller. For Dark Void Zero veterans, the new version of Dark Void Zero offers a secret ending to unlock, exclusive to Dark Void Zero on the iPhone and PC.
For more information on Dark Void Zero, head over to Capcom Unity's web site, where you can read more about the game and its publisher, Capcom-Unity.