It's a little tricky when I pick characters from television shows. Am I talking about the actor or the character? I try to stick close to the character. This week's crush is not in the realm of science fiction or fantasy, but the show and this character have a strong following. We can thank Elmore Leonard for writing the amazing character named Raylan Givens.
Stats:
Full Name: Raylan Givens
Age: 43-44
Occupation: U.S. Marshal
Who is He?
Raylan is the main character on the FX series Justified. He is also the hero in three of the late Elmore Leonard's novels on which the show is based. Raylan is the gung ho cowboy of Kentucky's branch of the U.S. Marshals. He has a quick trigger finger and you should never mess with his hat. He is portrayed by Timothy Olyphant on the show.
Fun Facts:
Raylan loves to eat ice cream. Too bad he is always interrupted before he can enjoy it.
Raylan's hat is a Stetson.
Elmore Leonard said he wasn't pleased with Raylan's hat on the show but Olyphant's acting was great.
Leonard got the the name "Raylan" from a book event in 1991. It was the name of a young man there.
Raylan once went to a Rasta music event.
(Author's Note: I tried to find a good Raylan video that wasn't a musical montage of him shooting people or slashy videos of him and Boyd and Raylan/Tim videos. I failed.)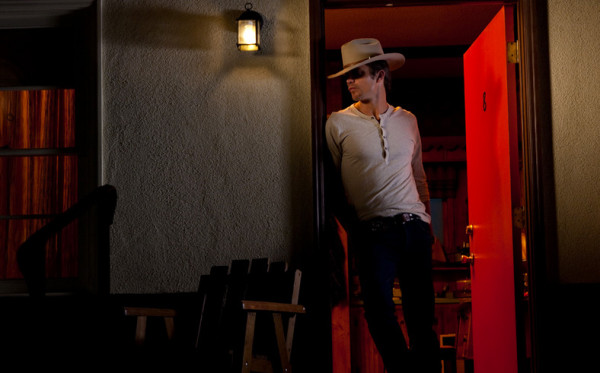 Why So Crushworthy?
"The next time we have this conversation, it won't be a conversation."
It could be a combination of his cowboy swagger and nifty accent. Or maybe he is a bad boy trying to do good things. Raylan has it going on, no matter what the reason. I really think he is one of the coolest characters on television. His only real predictability is that he will shoot you. He is clever enough to try to talk you out of whatever crime you are committing but if that fails — bang! Raylan brings the Old West style of thinking to modern times. While it may be laughable in other circumstances, Raylan makes it work for him. Look at how many women have ended up with him, either short or long term.
I really like Raylan's sense of humor. It's not too much or too little. He's the right kind of smart ass. Raylan is impetuous enough to get himself in a bad situation but smart enough to get out of one. Just take a look at how he handled Nicky Augustine. Raylan has a large mine of complex feelings. He's not a dumb cowboy. His friend/enemy relationship with Boyd is a good example. Raylan wants Boyd out of the way but he would feel really bad about doing the deed himself. He feels like putting Boyd in jail is a better way. Raylan never gets boring. I am also eager to see what sort of mess he gets into. Lastly, Raylan's voice gives me the shivers. I know it's Timothy Olyphant doing the voice but it's lovely to listen to. He and Ragnar should have a phone service where you just call in and listen to them talk.