Not all crushworthy characters must be debonair, devastatingly beautiful, or have nice manners. Sometimes it's sheer force of personality that nets you on this list. I have a fondness for characters that are really out there. I've noted that a lot guys have a man crush on this guy. Girls don't talk about him as much as Thor or Wolverine. However, I very much like the guy, foul mouth and all.
Who is He?
Deadpool, real name Wade Wilson, is a Marvel Comics character who first appeared in Deadpool #1 in 1997. Before he became Deadpool, Wade Wilson was a teenager from the rough side of the tracks who fell into the mercenary life. His life really changed after joining the Weapon X program. Wade's circumstances change many times in his butt-kicking-for-hire career. What doesn't change is his snarkiness. I mean, you don't get known as the "Merc with a Mouth" without a reason. He will be played by Ryan Reynolds in the 2016 Deadpool movie.
Snarky Fact:
One of Deadpool's nicknames/aliases is Chiyonosake, which means the "wolf of rice wine". He earned this reputation.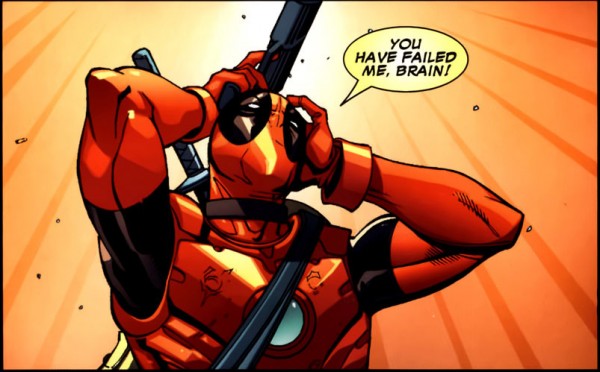 Why So Crushworthy?
This is a good question. Wade is not a nice guy. His dirty mouth could peel paint. He is a notorious womanizer. He has little nobility or gallantry like other superheroes. Yet, all this is why he is crushworthy. He is not the typical superhero. I think Deadpool is the ultimate bad boy. He really is the guy your mother warned you about. The really nifty red suit just adds to his reputation. Deadpool isn't an apologetic character. It's refreshing from the usual hero that broods about his existence and everything he has done. Deadpool doesn't do that. He's onto the next hit or lady by the next comic.
Now, this doesn't meant that Deadpool doesn't have feelings. He has formed legitimate attachments and has felt some strong emotions. This is all overshadowed by his mental instability. This doesn't mean I like them crazy like Deadpool. The psychosis just happens to be a part of Deadpool. I mean, I think we would be driven crazy, too, with all those abilities crammed into one body. Despite his off-the-wall antics, Deadpool still has some morality in him. He acts like a money-grubber, but he operates in more a good vs. evil world. He wants to see the really bad guys wiped out. What can I say, I'm a sucker for the anti-hero.
Or this whole article can be concluded by saying Deadpool is just freaking awesome. Enough said.