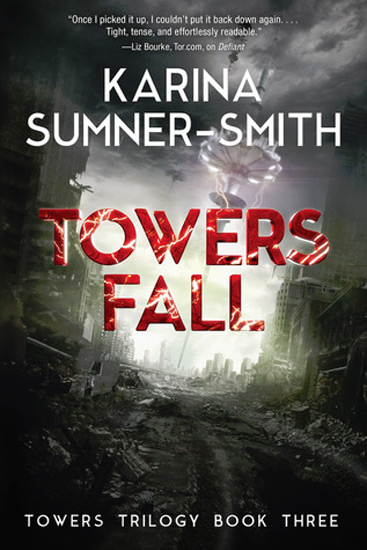 War. Fire. Destruction. Xhea believed that the Lower City had weathered the worst of its troubles, and that their only remaining fight would be the struggle to rebuild before winter. She was wrong.
Now her home is under attack from an unexpected source. The Central Spire, the City's greatest power, is intent on destroying the heart of the magical entity that resides beneath the Lower City's streets. The people on the ground have three days to evacuate—or else.
With nowhere to go and time running out, Xhea and the Radiant ghost Shai attempt to rally a defense. Yet with the Spire's wrath upon them, nothing—not their combined magic, nor their unexpected allies—may be strong enough to protect them from the power of the City.
Towers Fall, the third book in the Towers Trilogy by Karina Sumner-Smith released last week, and we have a copy to give away to one lucky winner! If you'd like a chance to bring this book home, you'll need to get your entries in by midnight Eastern time on the night of Monday, November 30, 2015. Take a look below to see all the ways you can enter.
Good luck!