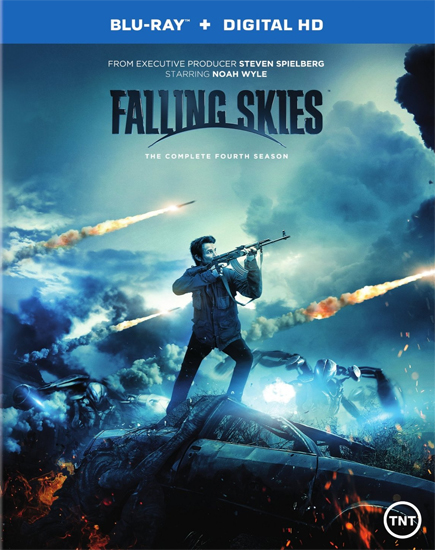 The two-disc Falling Skies: The Complete Fourth Season Blu-ray and three-disc DVD set includes all twelve episodes from the fourth season, as well as hours of exclusive special features including behind-the-scenes footage, character interviews and more. Falling Skies: The Complete Fourth Season comes to Blu-ray and DVD in advance of the hit drama's highly-anticipated final season, slated to debut on Sunday, June 28, at 10 p.m. (ET/PT) on TNT.
Falling Skies chronicles the extraordinary story about life and survival in the wake of a catastrophic alien invasion that leaves most of the world completely deliberated. Starring Noah Wyle (Tom Mason) as a college professor who becomes an unlikely resistance leader following the alien attack, the fourth season opens as the nightmare is just beginning for the humans battling the alien force. In season four, the Mason family and the remaining 2nd Mass suddenly find themselves under brutal attack by a new Espheni war machine – and a new, deadly creation unlike anything previously encountered.
If you're eager to get your hands on the new Blu-ray set, you're in luck! We're giving away one copy to a lucky winner this week. You can enter for your chance to win any time between now and midnight Eastern time on the night of Monday, June 8, 2015. See the form below for all the ways you can enter.
Good luck!