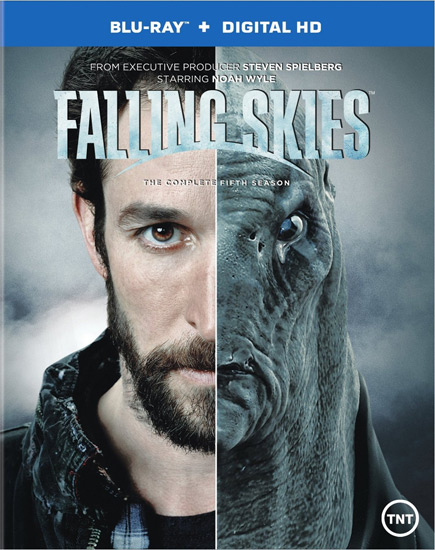 TNT's epic alien-invasion saga from Amblin Television and executive producer Steven Spielberg will land on Blu-ray and DVD on February 2 for the final time. All 10 action-packed episodes of Falling Skies: The Complete Fifth Season will be available as a two-disc Blu-ray release and a three-disc DVD set. The fifth season set features farewell interviews with the cast and crew, including Noah Wyle, Colin Cunningham, Doug Jones, and more, as well as "A Look Back," an exclusive group interview with Doug Jones, Colin Cunningham, and Sarah Carter.
As season five opens, all breed of beast and mutant are running rampant on earth. The Espheni's power core has been destroyed, and humans are now ready to fight on their terms. And after four years of being tortured, Tom and the 2nd Mass are filled with rage, ready to destroy the enemy in an all-out battle to determine the fate of Earth.
We have one copy of the new Blu-ray release to give away to a lucky winner! You have from now through midnight Eastern time on the night of Monday, February 1, 2016, to enter. Take a look below to see all the ways you can get a chance to win.
Good luck!