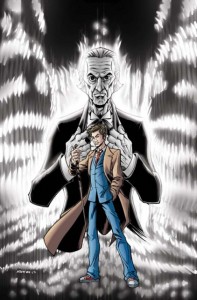 IDW's newest Doctor Who comics series began this month with Doctor Who: The Forgotten #1. John is our resident Who expert, and as such he's here with a review of this premiere issue!
Doctor Who: The Forgotten #1
Story By Tony Lee
Art by Pia Guerra
SYNOPSIS: The Doctor and Martha wake up in a strange museum. They have no idea how they got there, and the TARDIS has gone missing. The Doctor realizes that there's something strange about this museum when he notices that all of the exhibits are artifacts from alien races that he has encountered throughout his lives. Some of the items are totally impossible to obtain, and The Doctor soon finds himself to be completely dumbfounded when he discovers an exhibit that is totally devoted to his previous nine incarnations. Who has brought The Doctor here, and why is he bent on being The Doctor's greatest fan?
ANALYSIS: Doctor Who comics have always been a godsend. They enable us to see adventures from Doctors past, which is a big help since some of them have passed on, others are bit too far in their years to reprise the role, and some have other things on their plate. So it's a breath of fresh air that if I want to see more adventures with Paul McGann's Doctor, I can just read the comics. Now that we won't be seeing series five until 2010, the comics will make for a nice distraction.
After a lukewarm start with the previous comics series, I think we're finally getting a story worthy of its muse. I felt the previous six issues were a bit scatterbrained and in some ways incoherent. I couldn't really bring myself to try and figure out what was going on, and that is BAD WHO. Gary Russell, it wasn't one of your good days. You might want to stick with Big Finish. The Forgotten, on the other hand, has immediate allure from the start. It uses some tactics which are worthy of Steven Moffat. Within the first few pages you're asking various questions, and this is exactly where you're supposed to be in Doctor Who. You're supposed to be mystified. You're supposed to be eager to unravel the mystery. One of the reasons why Doctor Who is so appealing after all these years is that there are mysteries at every turn that immediately spark your curiosity and keep you watching (or in this case, reading) until it's solved. The Forgotten has that and more.
This story also caters to fans new and old with a remarkable plot point, which for old fans delivers a tidal wave of nostalgia. For new fans, it'll spark their curiosity for The Doctor's past and of his adventures in the classic series. There's a segment in this issue (which I'm hoping will be a staple throughout this story), where the Tenth Doctor reflects on his previous adventures back when he was in his first incarnation, when he was traveling with his granddaughter Susan, and her schoolteachers Ian and Barbara. I sense that the clues of the mystery are littered throughout the anecdote, but we won't really know for sure until the next issue.
The only fear I really have towards this story is that it may become a bit too fan-wanky and self referential. You can't really tell at this early stage, but there's this sense that the conclusion of this story may veer off into the "Oh yeah, that guy was the villain in this one story during Troughton era" territory. Still, this being the first issue, it's still too early to tell. My other hang up about this story is that it's not really current with the times in the companion department. Don't get me wrong; I loved Martha in Series Three and Four, but I REALLY loved Donna, and since there seems to be no way that we'll ever see her again on TV it would be nice if we could see more adventures with her in other mediums. Reading through this issue I kept thinking "What would Donna say if she saw this?" I guess it's because she is the current face of Doctor Who companions, and her finale was so tragic that I want to see more of her before the next companion comes along.
Nevertheless, The Forgotten is a much stronger outing for Doctor Who in the comics medium, and rest assured when the next issue arrives on the shelves, I'll be on it faster than audiences on The Dark Knight's opening day.
ISSUE #1 GRADE: B