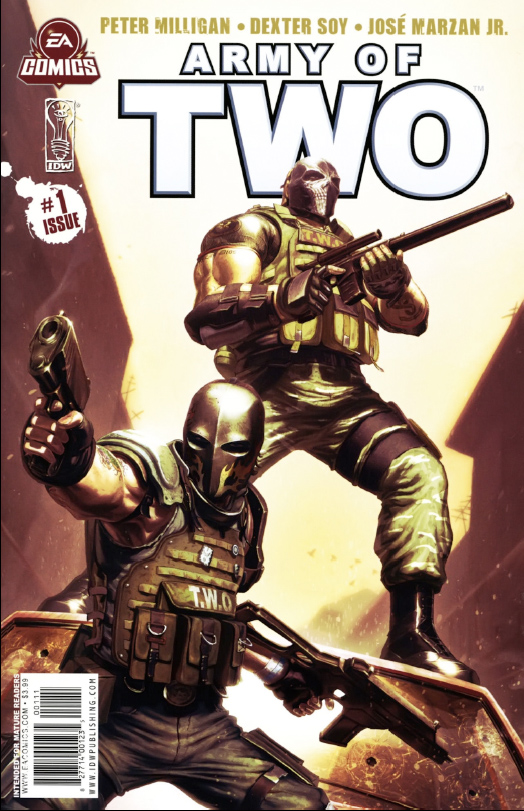 Issue: Army of Two #1 – Across the Border, Part 1: Tough Guys
Release Date: January 13, 2010
Writer: Peter Milligan
Penciler: Dexter Soy
Inker: José Marzan, Jr.
Colorist: Retroaero
Cover: Chester Ocampo
Letterer: Richard Starkings and Comicraft
Publisher: IDW
"Former US Army Rangers Elliot Salem and Tyson Rios thought joining the private military contractor Security and Strategy Corporation would be an easy assignment with a big payday. When they found out how dirty SSC was, they brought it down from the inside. Now with their trusted mission coordinator Alice Murray by their side, they're on their own with a new PMC, Trans World Operations. War in the 21st century is a murky place — can they keep their new Army of Two clean?"
The first series to come out of EA Comics (the combined efforts of EA and IDW), Army of Two takes place in between the first and second video games of the same name. Salem and Rios have started up their own PMC, and have taken on the task of helping out the Mexican government with a nasty little drug cartel problem. Things get dicey and a lot messy once they and their tagalong Edberg get into the thick of things.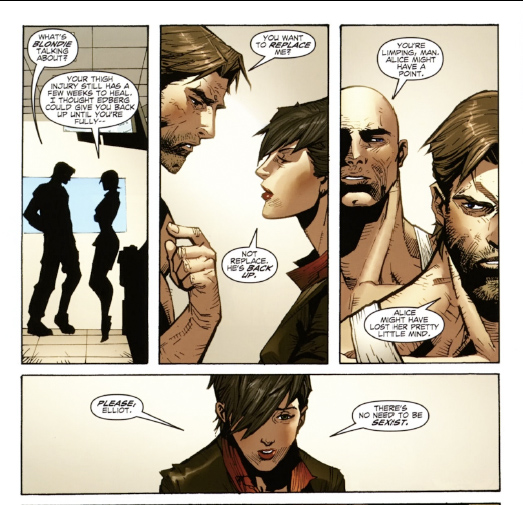 Keeping the Army of Two "clean": Rios is very concerned with this throughout the issue, but by the end of it things don't look that clean anymore. They kind of end up in the middle of what could turn into a civil war and that's not really what they're looking for. The cartel is well-equipped and they have the local police on their side (through bribery or threats, who's to say that this point in the story). Things happen fast in this first issue, even the deaths of characters.
I really enjoyed the combination of the "shoot-'em-up" aspect with the "Odd Couple" aspect in this. While I really like just straight-up action, I don't think as a first issue that would have gotten me interested in what could happen in the rest of the series is it hadn't been for the relationship/interaction between Salem and Rios. What I really appreciated here is that you don't have to have extensive knowledge of the game to understand what's going on. While it fits nicely into the same universe as the games, it doesn't rely on the reader having actually played them to understand and enjoy the comic on its own (which I think is a major problem with video game comic books).
I'm also really enjoying the artwork so far. Though, I am partial to tattoos and just about every character in this so far as at least one (not to mention I really dig the masks that Salem and Rios wear). Each character has his/her own personality and it shows in the way Soy portrays them. He also creates a great sense of movement and action that I liked.
Overall, it's an entertaining start to a new series. It doesn't happen very often with me anymore, but this was definitely a first issue that I actually enjoyed.
Rating: 3.5 / 5 Stars