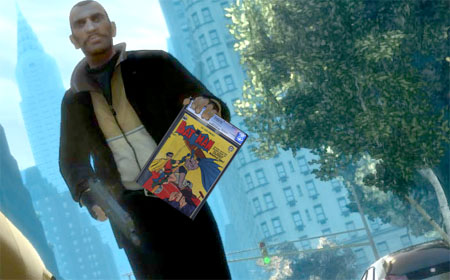 Some attendees of Michigan's Motor City Comic Con earlier this month more than made up for the price of admission. According to Graham Crackers Comics owner Jamie Graham, felonious fanboys made off with a stack of rare CCG graded comic books from the Graham Crackers booth on May 18. The stolen merchandise included:
All Star Comics #6 CGC 5.0
Batman #60 CGC 3.5
Batman #70 CGC 5.0
Detective #79 CGC 5.0
Looney Tunes #1 CGC 3.0
Marvel Mystery Comics #35 CGC 8.0
Marvel Mystery Comics #71
Shield-Wizard Comics #6 CGC 9.0
Superboy #1 CGC 8.0
The overall value of the loot clocks in at no less than ten thousand dollars. The highest valued pieces stolen were the Looney Tunes and Superboy issues. Graham Crackers was not the only victim, as Worldwide Comics also lost Silver Surfer #2 CGC 9.4 and Spidey Super Stories #1 CGC 9.6.
With the victims surely keeping an eye on eBay for the lost comics, you have to wonder what the thieves plan to do with the stolen comics.
Source: ICv2