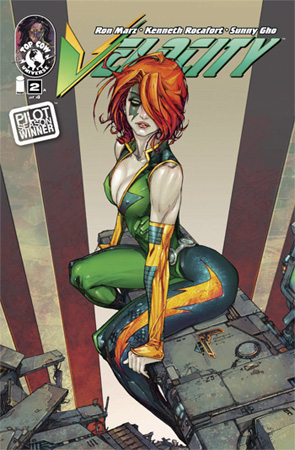 Issue: Velocity #2
Release Date: September 22, 2010
Writer: Ron Marz
Artist: Kenneth Rocafort
Colors: Sunny Gho (of IFS)
Letterer: Troy Peteri
Covers A & B: Kenneth Rocafort
Publisher: Top Cow Productions
Velocity is a spin-off series that features the exploits of super-fast superhero Velocity (real name Carin Taylor). Originally a character in Marc Silvestri's comic series Cyberforce, first published by Image Comics in 1992, Velocity is often considered the main character of Cyberforce, much of which focuses on the relationships that develop between her and the other Cyberforce team members. As such, the character was the natural choice for a Cyberforce spin-off, and Top Cow Productions jumped on board with the release of a one-shot written by Joe Casey with art by Kevin Maguire. The one-shot was the winner of Top Cow's first annual Pilot Season initiative in 2007, which gave birth to Velocity: Pilot Season #1. Winning the Pilot Season initiative meant that Velocity would become its own series, and earlier this year the new series kicked off with the publication of Velocity #1.

Velocity #2, which Top Cow Productions was kind enough to send to us for review, is written by Ron Marz (Witchblade, Angelus) with art by Kenneth Rocafort (Cyberforce, Hunter-Killer). Personally, I must admit that what first drew me to Velocity was Rocafort's rendition of the fiery-haired super-heroine. Although the visual representation of Carin Taylor, a.k.a. Velocity, in the new Velocity comics isn't significantly different from the character's appearance in the Image series from the '90s, Rocafort's illustrations — and Sunny Gho's colors — give Velocity a vibrancy and depth that she lacked previously.
In the second issue of Top Cow's Velocity, our heroine faces one of her most difficult challenges yet. The members of Cyberforce are infected with a terrible virus that takes effect immediately and proves fatal in just sixty minutes. Fortunately, Velocity's unique body chemistry metabolizes the virus differently than the rest of the Cyberforce team does, allowing her time to track down the members of a rival group of super-humans called Hunter-Killer.  One of Velocity's former Cyberforce team members, Dylan (also known as Heatwave), joined up with Hunter-Killer, so Velocity decides to kill two birds with one stone by checking on Dylan and seeking help from the other Hunter-Killer members in order to save Cyberforce.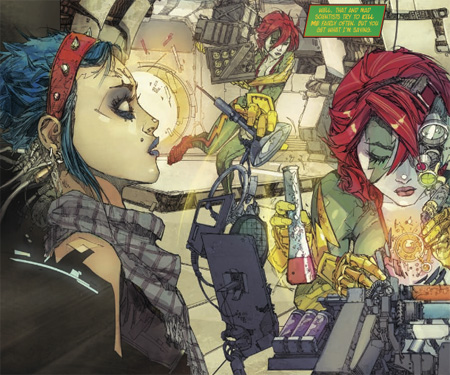 The story in this issue touches upon the concept of control, specifically control over one's own body. Velocity and the other members of Cyberforce can be "plugged in" to networks, allowing another individual to control a Cyberforce member's body like a puppet. In Velocity #2 this proves to be a blessing that allows Interface, a young but brilliant Hunter-Killer team member, to use Velocity's superhuman speed and her own knowledge to synthesize an antidote in record time. Given the 60-minute incubation period, Velocity and Hunter-Killer must work as fast as they can; even if they succeed in creating an antidote, the serum will need to be transported to each of the Cyberforce members in their various locations.
As I mentioned already, Kenneth Rocafort's artwork first drew me to the Velocity series. I was pleasantly surprised to find that Top Cow's reboot of this old spinoff draws heavily on the previous one-shot, as well as from the Cyberforce series, and works to condense the various aspects of Velocity's story together into a cohesive whole for the reader. For readers unfamiliar with the series, I would recommend jumping in with the first issue of Velocity released by Top Cow in order to have a bit more background information on what's going on in Velocity #2, but the series is worth checking out. If you're anything like me, you'll find yourself pulled into the Cyberforce world that Velocity inhabits and will want more. While Velocity #3 is scheduled for release at the end of this month, readers who enjoy this series can go back to Marc Silvestri's comics to whet their appetite in the meantime.
Rating: 3 / 5 Stars