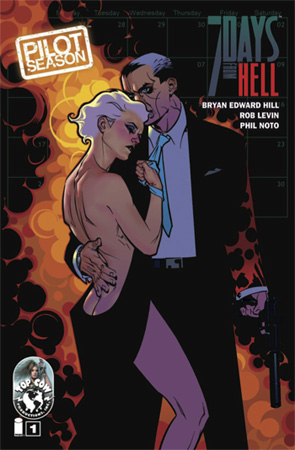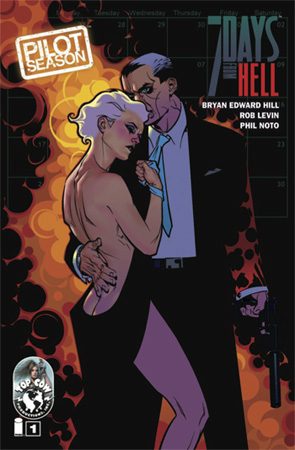 Issue: 7 Days From Hell #1
Release Date: October 20, 2010
Creator: Bryan Edward Hill
Writers: Bryan Edward Hill & Rob Levin
Artist: Phil Noto
Cover: Brian Stelfreeze
Publisher: Top Cow Productions
Redemption can take a lifetime. John Bishop only has 7 days.
Pilot Season is an annual initiative started in 2007 by comic book publisher Top Cow Productions, Inc. Each year, Top Cow allows readers to vote on the future of six different one-shot comic book pilots released by the publisher throughout the year. The one-shot pilot with the most votes becomes an ongoing series published by Top Cow. This year, six different creative teams have each produced a pilot issue of a new series, one of which is called 7 Days from Hell #1. Thanks to our friends over at Top Cow, we were given the opportunity to read and review the pilot issue of writers Bryan Edward Hill and Rob Levin's new series.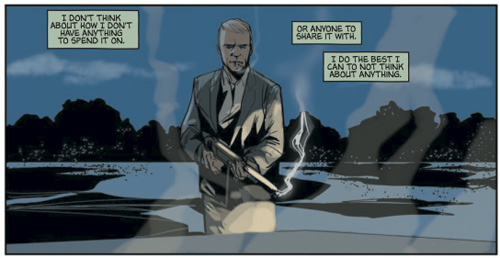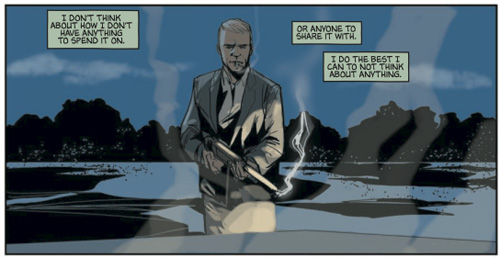 John Bishop's life is meaningless. His fiancée is dead. He already knows where he's going to end up when he dies. In fact, John already died. The only reason that Mr. Bishop is walking the Earth rather than writhing in pain in the depths of Hell is the selfish desire of a demon named Mandy. Mandy doesn't want John, though; no, Mandy wants people dead, and she wants John to kill them for her. Even before he died, John was a cold-blooded mercenary. Fortunately, though, John also had the love of a beautiful woman named Sarah. But when another mercenary misjudged the wind, the bullet meant for John ended his fiancée's life instead. That's when John Bishop stopped caring about anything — carelessness that led to his own demise and subsequent grudging employment for the demon Mandy.
Pilot Season: 7 Days from Hell #1 depicts John's life in Mandy's employ. Each time Mandy gives her "assistant" an assignment, he has seven days to complete the job. If he fails to kill the target, John will be shipped back to Hell and not even Mandy will stop his descent a second time around. Fortunately for John (and unfortunately for many, many other poor souls), he is good at what he does. The fact that John's targets are some of the worst criminals, sadists, and murderers should help him cope with his new position, but John's resolve seems to fade with each kill. Each time he is given a new assignment, John is faced with a choice: eliminate the target, knowing that another one will arise each time he completes the job, or go back to the eternal fires of Hell. Either way, John knows that he will never see his fiancée, Sarah, again — as Mandy tells her new pet, his love went to Heaven, a place forbidden to killers like him.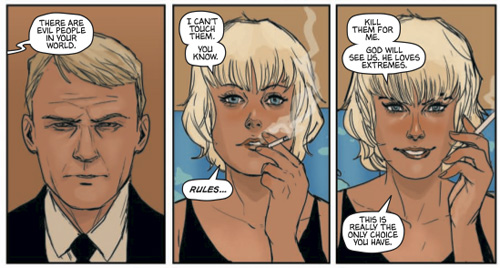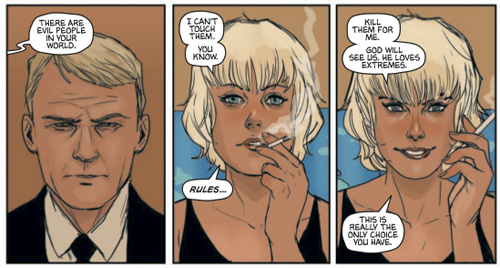 7 Days from Hell #1 addresses the age old question of the meaning of life: after all, what kind of life does John have as a fallen angel's personal hitman? With each target, John is placed on the chopping block once more, and the knowledge that he will never see Sarah again combined with what awaits him as he fails makes his existence a living hell. At what point is going to Hell better than participating in a demon's bid for redemption?
7 Days from Hell #1 is not the best of this year's Pilot Season comics, but it certainly is worth further publication, begging the question of whether Top Cow will repeat its practice of publishing multiple Pilot Season winners rather than choosing only the series with the most votes. The story is intriguing and the artwork is palatable, but the pilot is up against a number of other comics, including science fiction/thrillers Forever #1 (Matt Hawkins, Brad Inglesby, Bagus Hutomo, and Thomas Nachlik) and Hardcore #1 (Robert Kirkman and Brian Stelfreeze), the action/thrillers Crosshair #1 (Mark Silvestri, Jeff Katz, and Allan Jefferson) and 39 Minutes #1 (William Harms and Rafael Albuquerque), and romance thriller Asset #1 (Filip Sablik, Jenny Frison, and David Marquez).
Rating: 4 / 5 Stars