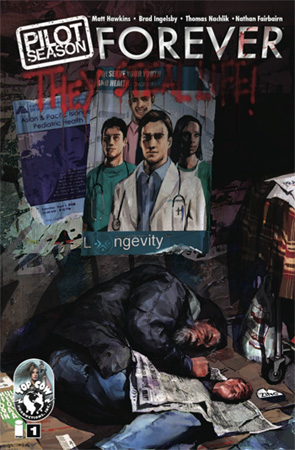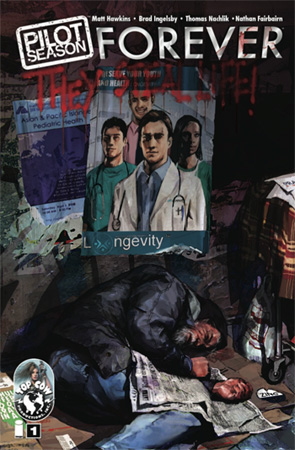 Issue: Forever #1
Release Date: October 13, 2010
Creator: Matt Hawkins
Writer: Brad Inglesby
Artist: Thomas Nachlik
Colors: Nathan Fairbairn
Letterer: Troy Peteri
Cover Bagus Hutomo (of IFS)
Publisher: Top Cow Productions
Pilot Season is an annual initiative started in 2007 by comic book publisher Top Cow Productions, Inc. Each year, Top Cow allows readers to vote on the future of six different one-shot comic book pilots released by the publisher throughout the year. The one-shot pilot with the most votes becomes an ongoing series published by Top Cow. This year, six different creative teams have each produced a pilot issue of a new series, one of which is called Forever #1. Thanks to our friends over at Top Cow, we were given the opportunity to read and review the pilot issue of creator Matt Hawkins, writer Brad Ingelsby, and illustrator Thomas Nachlik's new series.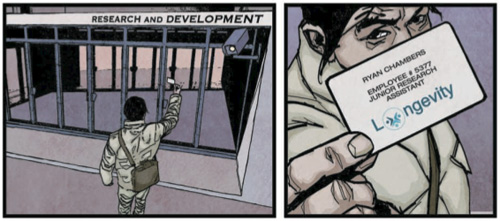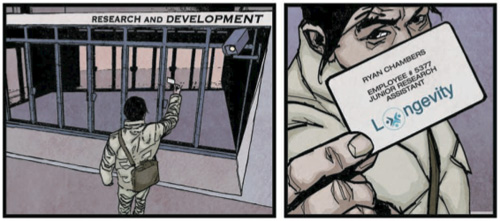 Longevity is a company that promises to "ensure tomorrow" by providing people with injections that slow, and in some cases reverse, the aging process. Twenty years ago the scientists that discovered this miraculous treatment started Longevity, and the biotech company went on to become the largest corporation in the world. Ryan Chambers is a handsome, idealistic young man who works for Longevity. He leads a good life, peopled with friends from the orphanage where he grew up and a girlfriend named Kate. But Ryan's life is about to change, and our protagonist doesn't have a choice in the matter.
When a group of masked men kidnaps Ryan after attacking him in his own apartment, Ryan learns the truth about the mysterious treatment that saved his life when he was a child: he was one of the first patients of Longevity. Now a violent underground movement is claiming the lives of individuals who have received the procedure, and these dangerous men are taking Ryan on a killing spree while they exact "revenge" on the wealthy and influential men and women who paid Longevity to extend their lives. It's not until these strange masked men show Ryan what Longevity really does that he realizes what it is that the company really does: they steal life.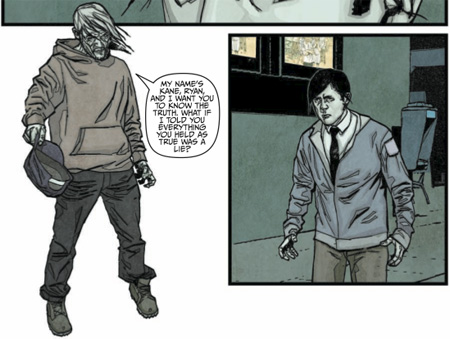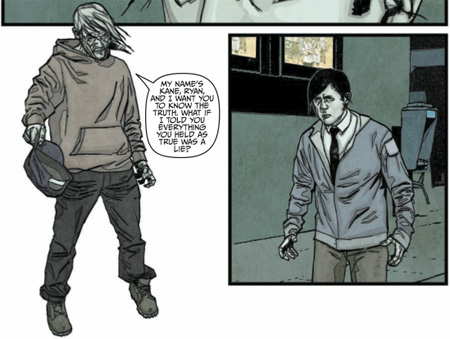 Forever presents readers with the ultimate case of the "haves" versus the "have nots": Longevity is stealing life from the less fortunate and selling it to those who have the money, power and influence to afford the otherwise prohibitively expensive injections. Although much of the pilot issue's action takes place indoors (in Ryan's apartment, etc.), Forever #1 does present readers with several brief cityscapes that are dominated by corporate advertising — an indication of the power of a company like Longevity.
According to the series description provided by Top Cow, if Forever is chosen for continued publication, the next issues will focus on Ryan's new and dangerous task: to work as a double agent from within Longevity, maintaining access to the company through his position there while helping those intent on stopping its heinous practices. Ryan will join forces with his captor, Kane, the man who opened his eyes to the nature of Longevity's medical science. The question remains, however, whether two men can make a difference against a global organization composed of more than twelve million people around the globe. Hopefully Forever will be picked up by Top Cow as an ongoing series — or at least as a miniseries — so we can find out what happens as Ryan and Kane work their way deeper into Longevity's dark past and myriad secrets.


Overall, Forever #1 is structured well and presents readers with a strong foundation for an intriguing science fiction series that will address some very big issues if it's picked up as an ongoing Top Cow title. Thomas Nachlik's illustration style is definitely the most unique seen in the Pilot Season comics thus far, but rather than taking away from the story, Nachlik's drawings lend a dark, unstable feel to the series reminiscent of other types of science fiction media.
Forever #1 is one of several comic book pilots entered in the Top Cow Pilot Season contest this year. The others include the action/thrillers Crosshair #1 (Mark Silvestri, Jeff Katz, and Allan Jefferson) and 39 Minutes #1 (William Harms and Rafael Albuquerque), supernatural thriller 7 Days From Hell #1 (Bryan Edward Hill, Rob Levin, and Brian Stelfreeze), and romance thriller Asset #1 (Filip Sablik, Jenny Frison, and David Marquez).
Rating: 4 / 5 Stars