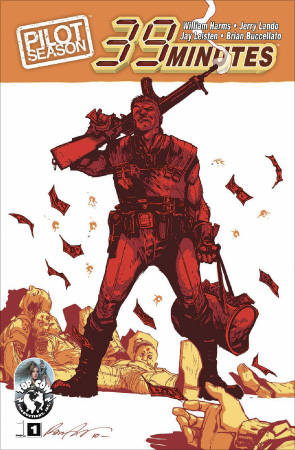 Issue: 39 Minutes #1
Release Date: September 22, 2010
Writer: William Harms
Illustrator: Jerry Lando
Colors: Brian Buccellato
Cover: Rafael Albuquerque
Publisher: Top Cow Productions
Pilot Season is an annual initiative started in 2007 by comic book publisher Top Cow Productions, Inc. Each year, Top Cow allows readers to vote on the future of six different one-shot comic book pilots released by the publisher throughout the year. The one-shot pilot with the most votes becomes an ongoing series published by Top Cow. This year, six different creative teams have each produced a pilot issue of a new series, one of which is called 39 Minutes #1. Thanks to our friends over at Top Cow, we were given the opportunity to read and review the pilot issue of writer William Harms and illustrator Jerry Lando's new series.
39 Minutes is an action/crime series that may at first remind some readers of the recently adapted Vertigo series The Losers. John Clayton was the leader of a Marine Special Forces unit in Iraq, but when he and his men try to stop a private security contractor from committing unspeakable acts, Clayton ends up in the Disciplinary Barracks of Fort Leavenworth, Kansas, while his second in command, Paul Bishop, leads the rest of the unit across the Midwest to commit a series of bank robberies in a misguided attempt to exact restitution from the U.S. government.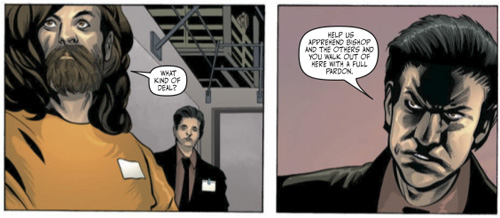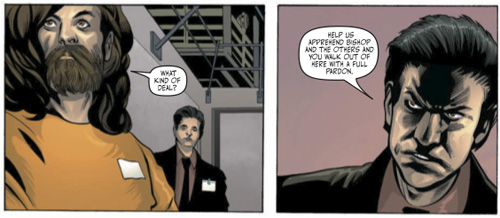 The problem? Besides the fact that Clayton is being held for trying to do the right thing while his unit goes rogue robbing banks on U.S. soil, the main dilemma facing the man in charge of investigating these crimes, Special Agent Poole, is that these bank robbers are highly trained professional soldiers with a penchant for killing any and all witnesses to their crimes. In a move straight out of prime-time television, Special Agent Poole has an offer for John Clayton: track down and stop Bishop and his crew in exchange for his freedom (White Collar, anyone?). If he refuses, Clayton will be retried on four counts of first degree murder, convicted, and executed.
39 Minutes #1 opens in McCook, Nebraska, where Bishop and his men prepare for their next heist. The target, a small suburban bank, doesn't stand a chance given the team's extensive collection of high-powered weaponry and military expertise. Unfortunately, it isn't enough for Bishop to rob banks; he and his men use whatever means necessary to take out local law enforcement in a huge display of explosions and sniper fire. They want to send a message.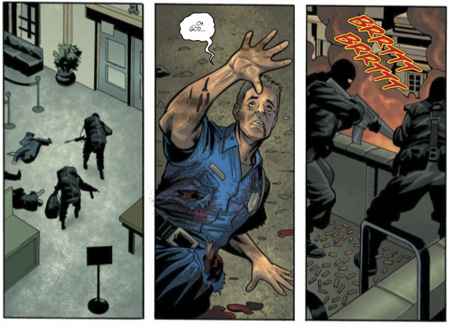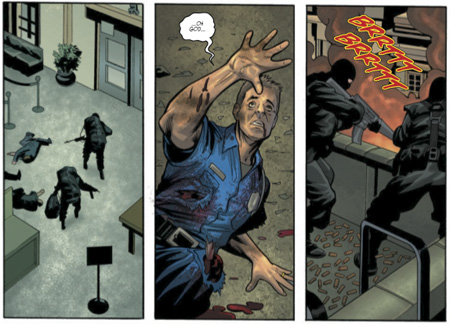 The pilot issue of 39 Minutes includes a nice message from writer William Harms describing how he came up with the idea for the series and the research that he did to make the story believable. Another neat bonus is some character designs created by Jerry Lando that also appear in this issue, along with a five-page sneak peak at another Pilot Season contestant, Pilot Season: Asset #1, which hit stores just last week.
39 Minutes #1 will definitely make readers want to see more of the series, but whether or not it will be chosen as the next Pilot Season winner remains unclear. The story is intriguing and the artwork is palatable, but the pilot is up against a number of other comics, including science fiction/thrillers Forever #1 (Matt Hawkins, Brad Inglesby, Bagus Hutomo, and Thomas Nachlik) and Hardcore #1 (Robert Kirkman and Brian Stelfreeze), the action/thriller Crosshair #1 (Mark Silvestri, Jeff Katz, and Allan Jefferson), supernatural thriller 7 Days from Hell #1 (Bryan Edward Hill, Rob Levin, and Brian Stelfreeze), and romance thriller Asset #1 (Filip Sablik, Jenny Frison, and David Marquez).
Rating: 3.5 / 5 Stars