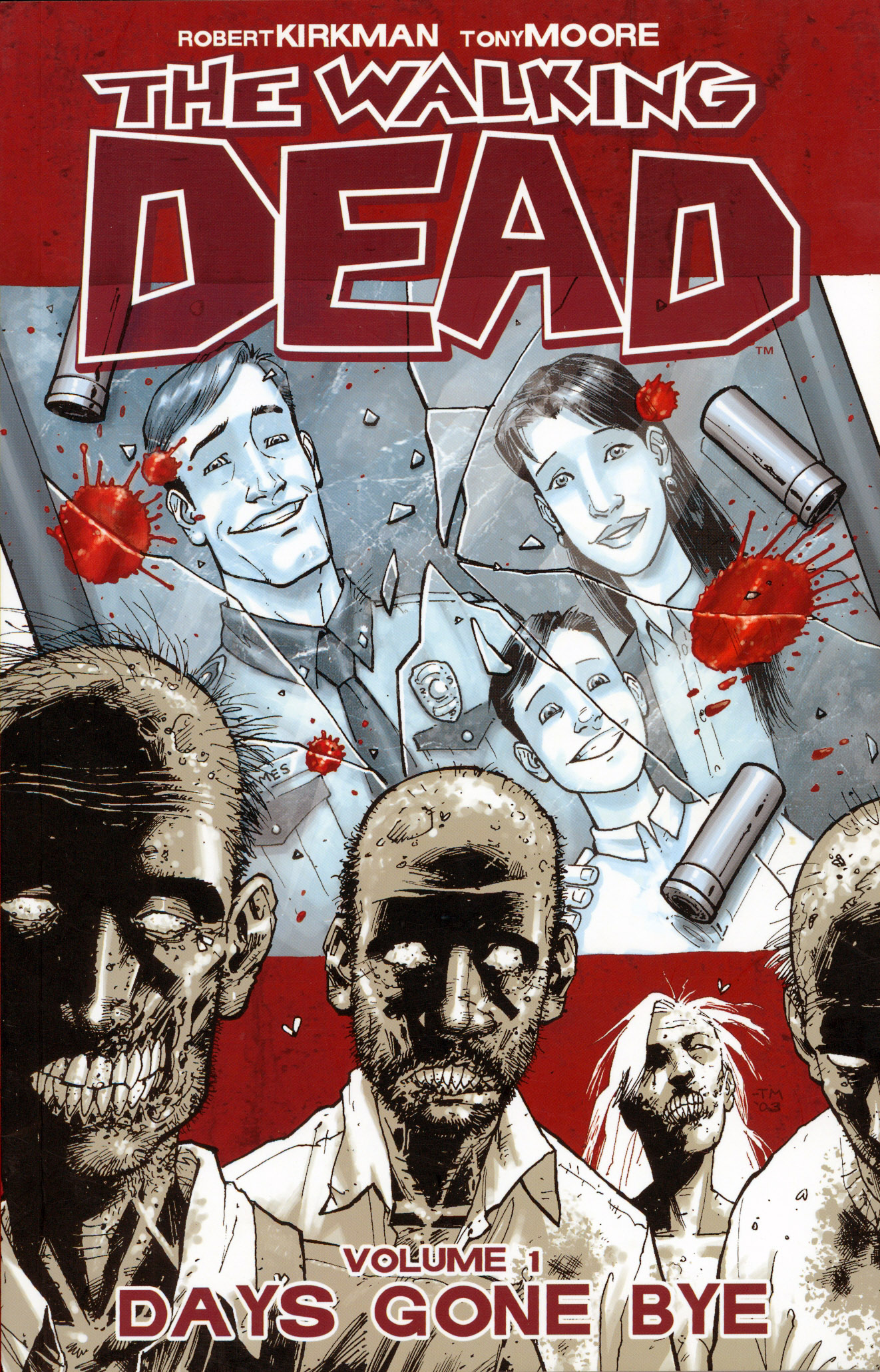 REVIEW: The Walking Dead Vol. 1 – "Days Gone Bye"
Creator, Writer, Letterer: Robert Kirkman
Penciler, Inker, Gray Tones: Tony Moore
Additional Gray Tones: Cliff Rathburn
Introduction: Robert Kirkman
Publisher: Image Comics
"How many hours are in a day when you don't spend half of them watching television? When is the last time any of us really worked to get something that we wanted? How long has it been since any of us really needed something that we wanted? The world we knew is gone. The world of commerce and frivolous necessity has been replaced by a world of survival and responsibility. An epidemic of apocalyptic proportions has swept the globe causing the dead to rise and feed on the living. In a matter of months society has crumbled, no government, no grocery stores, no mail delivery, no cable TV. In a world ruled by the dead, we are forced to finally start living." – From the back cover.
I'm all about zombies. I like when we get a zombie movie that's full of flesh-eating reanimated dead people and the creative ways the surviving humans come up with to take them out (headshots!). I like when the SFX department is given free reign to make things so beyond bloody that when anyone gets hit they explode in a juicy mess like watermelons being shotgunned by R. Lee Ermey. I like when it's so over-the-top gory, you gag while you laugh.
The Walking Dead Vol. 1 has none of that. Well, it has the appropriate amount of gore (this is zombies, people), but if you're looking for a fun romp through the zombie killing fields this is not the trade for you. Because what Kirkman intends to deliver is the setting up of what I love about zombies: He's going to show us how quickly we either fall apart and become worse than the monsters or grow stronger and become what we idealize about what sets humans apart from the rest of the animals. At least, that's what he promises us in his intro.
For better or worse, the volume starts off much like 28 Days Later. The protagonist, Rick Grimes, wakes up in the hospital where he's been in a coma while the world was going teets up. I'll admit, reading that opening the first time, I was pretty disappointed I'd spent money on this trade. I don't have a whole lot of it to begin with, so I usually save it for trades and that's usually trades I hear a lot of good things about. I got over that pretty quick once the story of Rick trying to find his family started to progress. Which is a good thing because there's nothing more disappointing than thinking you wasted your money in the first four pages.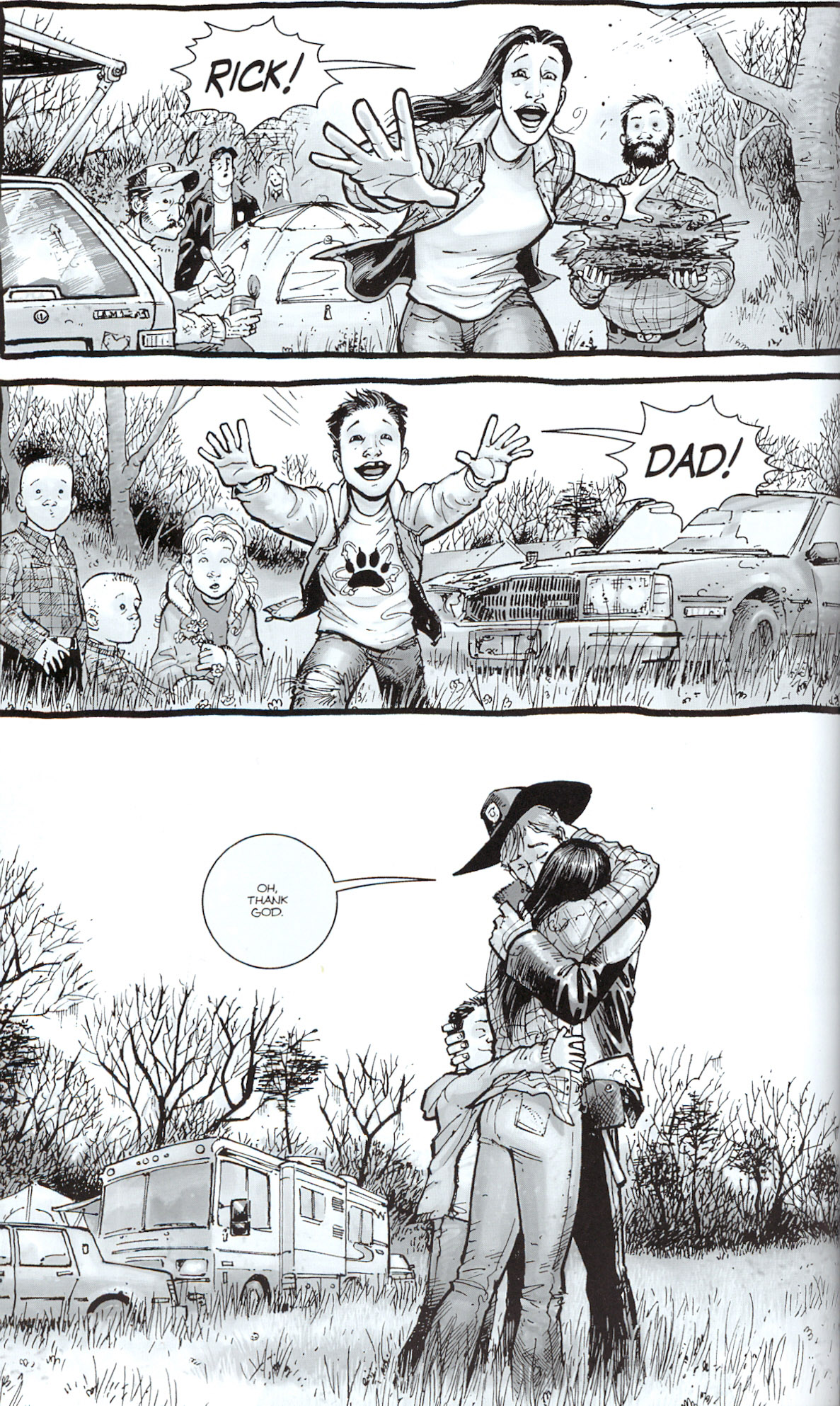 A lot of stuff happens in this volume where you kind of go, "Well, that sure as hell was convenient". I mean, what are the chances that Rick would actually find his family? He does, and it's kind of trite, but you need him to find his family if this story is going to go anywhere. There was also the fact that all the women were cooking and cleaning that kind of irked me (OMG, I'm such a feminazi!). There were good explanations for it (Rick's wife makes a point that she doesn't even know how to use a gun, but she knows how to do the laundry), and once everyone gets a gun (also pretty convenient), a chick turns out to be the best shot.
The art is great. Really, it was the art that kept me reading after those first pages of "meh". Moore has a great use of line, gives each character his/her own look, and he handles the gore of decaying bodies that want to eat your face fantastically. I particularly like that they went with gray tones instead of colour. There's something about the lack of colour that works really well with this story and Moore's line work.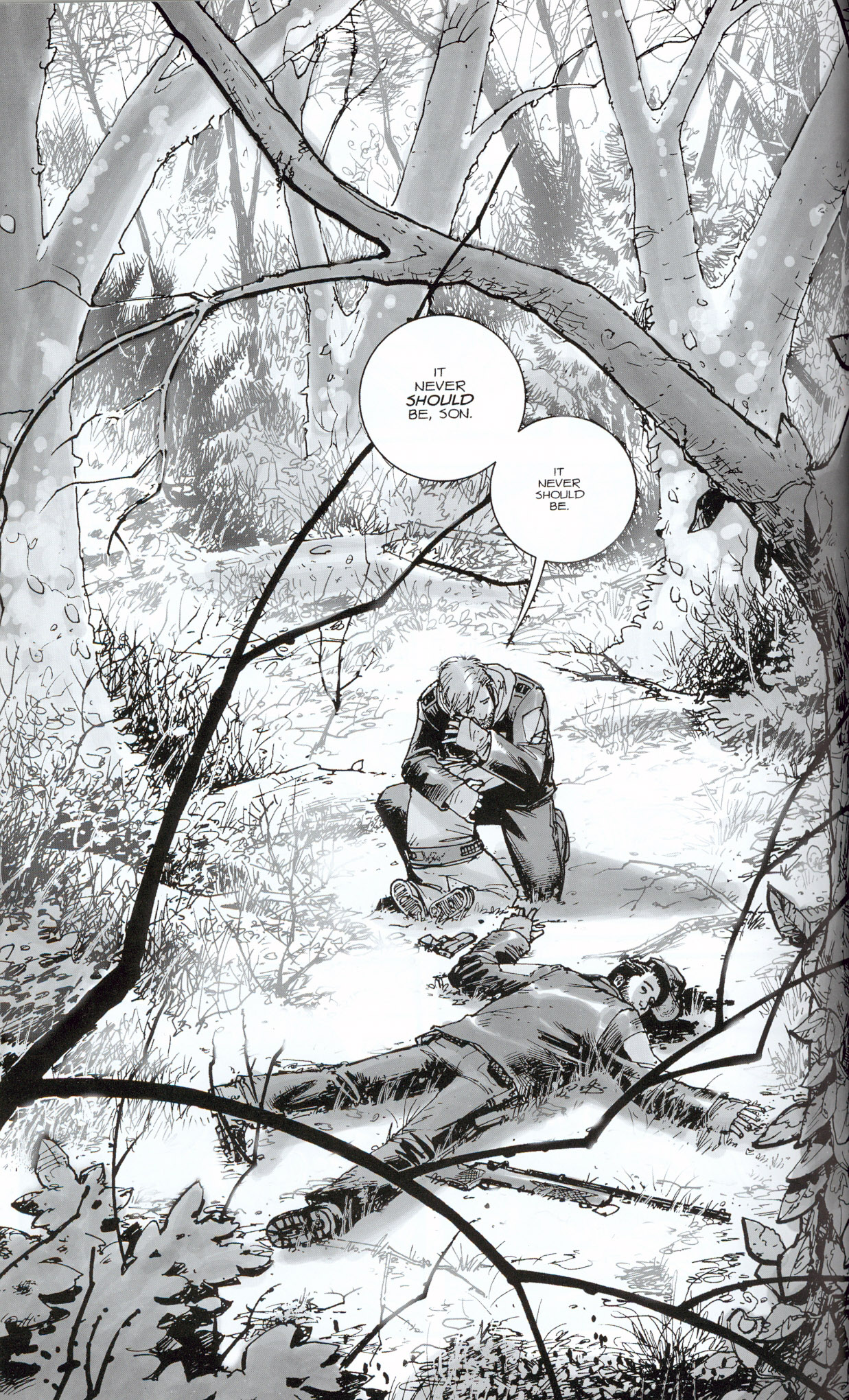 Vol. 1 is a bit of a rocky start to the type of story Kirkman wants to tell. There's a sufficient amount of drama, action, and gore here, but there's also great potential for the characters to get very interesting. I think to get a good opinion on the series as a whole, I'll need to pick up at least the next two volumes because right now I'm not sure if I like it or not. It's pretty depressing and has none of the aforementioned "gag while you laugh" moments, so if that's your zombie bag this might not work for you. On the other hand, if you're into post-apocalyptic stories about how we survive and what we're willing to do to survive, it's worth picking up to get started with.