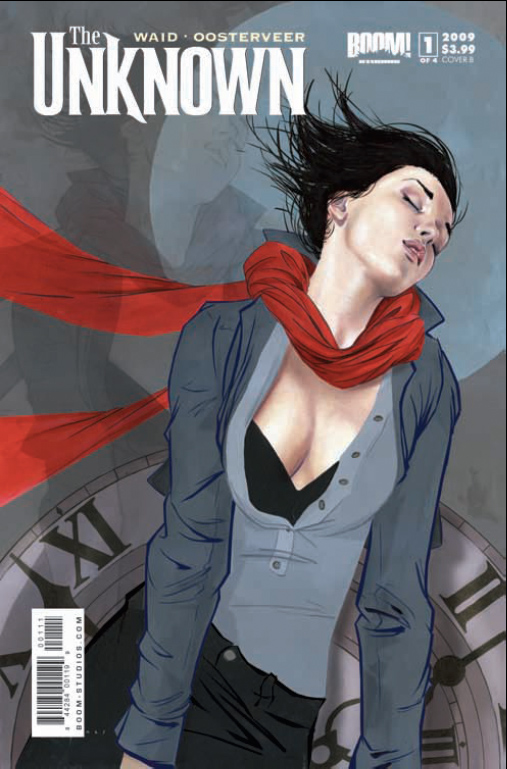 REVIEW: THE UNKNOWN #1
Release Date: 13 May 2009
Writer:  Mark Waid
Artist:  Minck Oosterveer
Covers:  Paul Pope and Cris Peter, Erik Jones, Minck Oosterveer and Andrew Dalhouse
Colours: Fellipe Martins
Letterer:  Marshall Dillon
Publisher: BOOM! Studios
Catherine Allingham is hailed as the smartest person alive.  She also happens to be the world's greatest PI, solving mystery cases such as The Black Dahlia and what Stonehenge is really all about.  The Unknown may be the biggest case she'll ever crack wide open.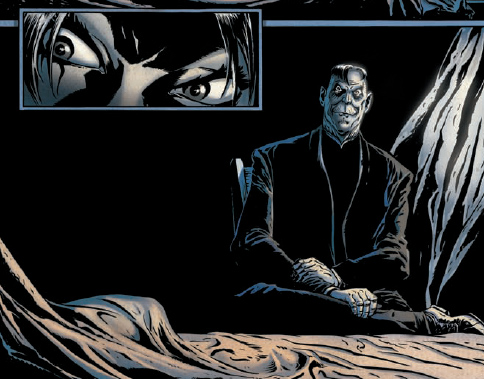 Having just finished watching the season finale of Fringe, my brain was completely ready for some more crazy science being investigated by a strong female character to roll around in.  And this first issue delivered, right in the gob, my friends.
We're introduced to Catherine as she's doing what she obviously does better than anyone else on the planet: she's solving a mystery (to be specific, a murder staged to look like a suicide).  Oh, that's shortly after she has a hallucination of this square-headed Frankenstein looking dude sitting next to her bed leering at her.  Awkward.  She sees this guy a lot.  Across the street from the crime scene, Catherine's soon-to-be assistant (James Doyle) is bouncing a thief out of a club and onto his face.  Turns out this is exactly the kind of assistant she needs for her next big case.
I guess I should admit this now and get it over with.  I love having a strong, interesting female character for one of the main protagonists in comics, movies, etc.  Blame it on obsessively watching Buffy and Scully as a teen.  So far, Catherine is right up there.  In 25 pages, she's set up as a smart, tough, stubborn, flawed, sexy, and just complex and well thought out character.  She's 3-dimensional and I appreciate a female comic book character getting that kind of treatment.  Of course, it's Mark freaking Waid doing the writing, so I didn't have any doubts this would be an interesting read.  It's like watching a rich, chick version of House, with the dry erase board and all!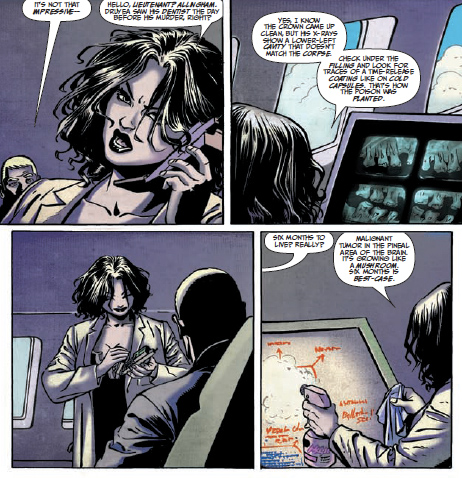 The art is suitably dark and moody, fitting the vibe of the story well.  There's great use of heavy shadows and a mostly cool colour scheme, both helping to set the world this story takes place in.  Sometimes in comics, characters' faces will be completely blacked out by a shadow from nowhere.  You notice it because it doesn't make any sense for the entire face to be gone from sight.  When it's done here, it makes sense and fits the setting surrounding the characters.

If you like stories in the same vein as Fringe, this is definitely a comic worth picking up.  Don't be scared off by the science talk!  Waid knows how to drop the big words without confusing the reader and making them feel like a dunce.  This is another great start to an engaging mini-series.