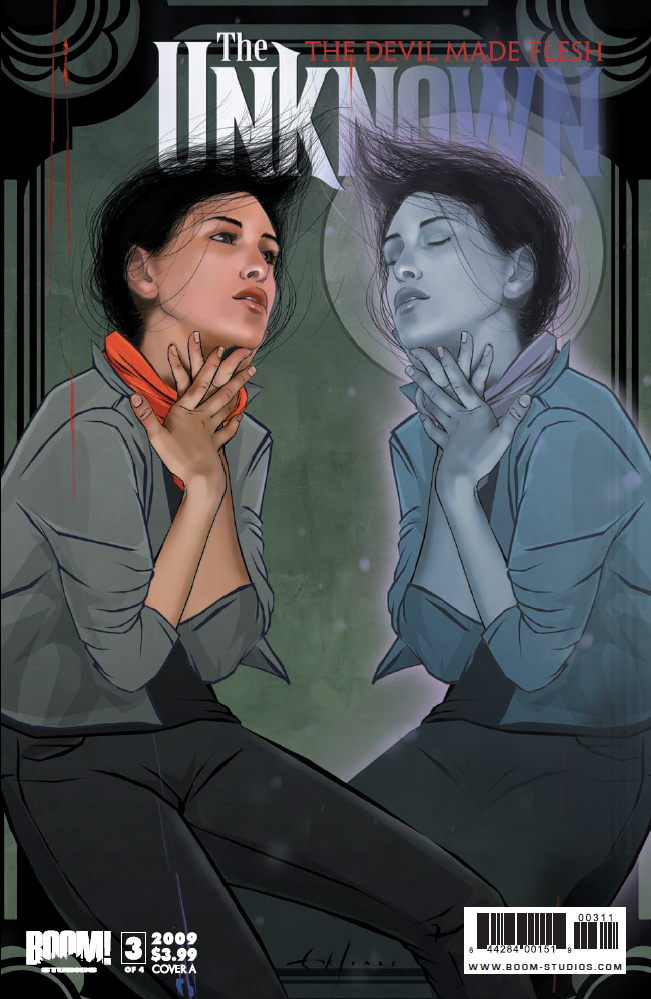 Issue: The Unknown: The Devil Made Flesh #3
Release Date: December 16, 2009
Writer(s): Mark Waid
Artist(s): Minck Oosterveer
Cover(s): Erik Jones, Alexander Stojanov with Stephen Downer
Colors: Andres Lozano with Javier Suppa
Letterer: Marshall Dillon
Publisher: BOOM! Studios
It's almost the end of this mini-series, and it looks like Catherine might have stepped in it big time with this case. In a town full of people doing the exact same thing at the exact same time, her new assistant running off with Catherine's car (and way out of town), and finally meeting with the Mastermind behind this great mystery, it seems like Catherine might not get out with the answers this time.
Of course Catherine knew that Adriana was a rat and killed Doyle. Unfortunately, Adriana totally beats her in hand-to-hand combat and runs off into the night. This does give Catherine the chance to find a very important clue on the sheriff's dead, mutilated body. After she and the kid make it back to the police station, she uses that clue to piece all the "one word written in blood" clues to reveal: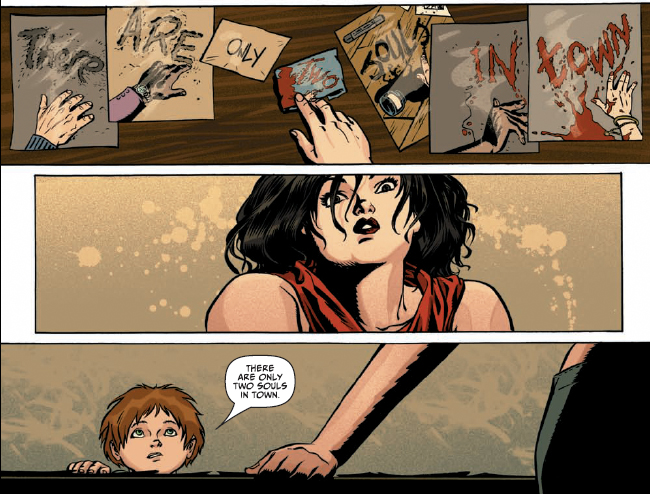 I'm going to drop a massive spoiler, so just skip this next chunk of text if you don't want to know it.
***
The big secret of the town is reincarnation. Reincarnation. The entire town was made up of the same soul reincarnated over and over again. And, conveniently enough, Doyle turns out to be one of those reincarnations. Okie dokie.
I'm not sure why, but that just made me go, "Seriously?" and make a face like I was sucking on a lemon. Honestly, I don't know why this reveal was disappointing for me (I really don't know what exactly I expected or if I even had any expectations), but it was just underwhelming. I mean, the title is "The Devil Made Flesh," right? I expected something a little more devilish, something more sinister than reincarnation, I guess.
***

That being said, this isn't the final issue. Things can change gears in that one that could potentially make the above spoiler more interesting than it was in this issue.
Rating: 3 / 5 Stars
BOOM! Studios provided this issue to Fandomania for review.